Improve your home's comfort, efficiency and durability the smart way
—with Evergreen Home Performance!
Welcome to Evergreen Home Performance
At Evergreen Home Performance our goal is to help Maine people increase the comfort of their home and reduce their impact on the environment. We are dedicated to helping Maine address the climate crisis and evolving weatherization needs of our homes by providing the best home performance services throughout Coastal Maine.
Using expert
energy audit diagnostics
, we can provide you and your family with the insights you need about how your home is performing. From upgrading your
insulation
,
encapsulating your basement
, or
replacing your windows and doors
, Evergreen Home Performance has the tools you need to live more comfortably and "energy wise" in your Maine home and save money on your utility bills.
Home Performance For Your Maine Home: Insulation, Energy Audits, Marvin® Windows
What our clients are saying about us
Evergreen did everything they said they would and more. I actually don't mind going into the basement now since they sealed it. The air quality in the house is noticeably better and it's warmer in the winter. We can even store clothing down there where before, whatever was in there would mildew... Read More

Thanks Evergreen Home Performance for helping to make our home more efficient. Many thanks as well to Bryan for the initial walk through and recommendations to make our home more efficient and to Dave, Roland, and Jacob for a job that was done professionally and courteous.... Read More

Great company. Very professional and thorough. They take the time to explain everything and offer options to fit your budget. Wonderful experience from start to finish.

Evergreen is a terrific company to deal with. Polite and efficient crews, meeting deadlines and major reduction in our heat bills. They corrected a lot of issues we suffered from doing work with a shoddy building contractor. We would recommend them to anyone.

I would recommend Evergreen wholeheartedly because of their professionalism, their follow through, and thoughtful project planning.

The folks at Evergreen did a great job fixing a rather major insulation problem in my house, which they helped identify with a great audit. When the work began, they were thorough, upbeat, and -- dare I say it -- efficient. I strongly recommend them.

The Evergreen team was amazing from initial assessment and planning to the crew that came to complete the work. Our basement encapsulation is the best money we've spent on our house by far. The work was thorough and high quality. And what a wonderful group of people to work with.... Read More

Nothing but good things to say. The guys that came and did the actual work were extremely nice and did a great job. The energy audit was thorough and I was presented with multiple improvement options, I was even given ideas for improvement that Evergreen didn't offer.... Read More

Very easy process, start to finish.  Friendly, professional, and really know their stuff.  They made some improvements to our condo and we were very happy with how it played out.  Would definitely recommend them.

We are so pleased with the work the team from Evergreen Home Performance did in our home. The project included encapsulation of our basement with a reinforced vapor barrier, installation of a sump pump, spray foam insulation on the walls and insulation of the heating duct work.

The Evergreen crew from initial inception to installation were professional, on time, and left our place spotless. The end result was exceptional.

I had gotten estimates from several other companies, but Evergreen was in another league entirely with their professionalism. If you want the job done correctly, I couldn't recommend this company enough.

In the final stages of selling our home, and with a closing date set, an inspection came across an unanticipated issue in our attic. We quickly called in contractors, but nobody was able to identify the source of the problem. Then we thought of Evergreen.

I used to spend winters in the bathtub because my house was so cold. This was my first winter roaming around my whole house comfortably. This even led me to decorate a little.

Highly recommended. Our heating usage is now less than half what it was before we had our roof insulated. Evergreen was knowledgeable, friendly, and left no trace they were ever in our house.

Evergreen is a highly professional company from start to finish. They went over all of our options, costs and rebates thoroughly before even beginning the job. Once the job began, they worked in a timely, neat, thorough, friendly and thoroughly professional manner.

We had a fantastic experience working with Evergreen to insulate our roof this winter.

Awesome company. It was a few years ago that they did the audit and then we commissioned them to do the work. We subsequently sold our house and moved to South Africa, but their level of service and expertise will live on.

Evergreen has just completed Phase 2 of 2 at my home. They are professional, hard-working and courteous. They communicate well..no surprises. They've gone above and beyond to make my home comfortable and were very respectful of my home.
I recommend them unequivocally!!!

From beginning to end – that is from the moment Justin McEdward stepped into our home to assess our energy conservation needs until the crew left – the Evergreen Home Performance process went absolutely smoothly. Justin made a thorough inspection and took pictures with an infrared camera.

We just finished a large project of air sealing and reinsulating our 1890s basement and attic which had been completely renovated 8 years ago but still felt cold and lacked proper energy assessment and corrections.

First we have Evergreen do a BIG project worth about $20K (windows, basement, insulate & rebuild an entire wall, a door, attics, and air sealing). They were so great we had them come back later when we decided we did want to do our other door. They are professional and do great work.

A thorough inspection of our (older) house and its energy needs. Competent and personable work crew.

Working with Evergreen was a dream! Professional, knowledgeable, and super clean work. Communication was fast and service impeccable. The bedroom floors in our 1960's split ranch will be warm with the new insulation between them and the garage. Bring on the snow! (not really, but sort of)

My husband and I bought a home on the water in Owls Head and decided to make the investment in Evergreen's recommendations for insulation. Brian Robinson spent 3 hours examining every nook and cranny before he made practical suggestions and explained them thoroughly to us.

Evergreen did an amazing job insulating our historic home. Their professional staff worked hard to ensure the tough areas in the attic were covered, and clearly communicated their progress. We are seeing the results with our discounted heating bills. Thank you, Evergreen!

"Working with Evergreen from start to finish was a great experience." See what our customers have to say about their experience with Evergreen Home Performance. 

We absolutely loved our experience with Evergreen. The team was incredibly kind, professional and great to work with. We're very impressed with the quality of work of the Evergreen team and how easy they made everything!

We couldn't be more pleased with the easy, professional, high-value service from Evergreen. Having purchased an older home that had been in our family for generations, we needed multiple upgrades, including insulation throughout.

I was very impressed by the professionalism of this company and the workers. Brian R. was very prompt in replying to my questions; the crew was meticulous in all parts of the work and attentive to the safety aspects concerning Covid; and Brian was extremely thorough in the final inspection.

Our basement was the eyesore of the house. I wanted to make improvements, but first needed to make structural, insulating and moisture mitigation improvements.

Last week, my oil company asked if we were using some other kind of fuel because our usage was so much less than they had expected We are very happy with the results; the house is much more comfortable

Working with Brian and with Nate and the rest of the crew was a pleasure. They made everything very easy and understandable. This was a major renovation and they were always at the ready with a lot of information.

My experience with Evergreen was excellent. From their thorough and thoughtful initial consultation to their detailed post-work visit, the team was professional, knowledgeable, and responsive. Their workmanship was top notch. Our home is now much warmer and more efficient.

The crew members from Evergreen Home Performance each made sure to greet us every day, while maintaining their distance in this time of the pandemic. Their work took a total of nine days, spread over three weeks.

Evergreen is the "go-to" company for improving the efficiency of your home. There are others to choose from but none so effective, honest, and capable as Evergreen.

Evergreen has a professional and reliable team of people who do excellent work. If you want the best of the best in the area, select Evergreen to accomplish your insulation needs.

I made the mistake of NOT hiring this company last year when I bought and renovated my home. I have brought them in now and what a difference. This group knows what they are doing. They take a complete look at everything and believe they can make your home more energy efficient.

This team of individuals was professional at all times. They set up barriers that kept the dust at a minimum. They conducted an air flow audit and cut the draft circulation from the outside in half by sealing cracks.

We needed basement encapsulation to stop moisture coming up into the house from our regularly flooding basement. We had mold growing on windowsills and furniture. All the staff were friendly, respectful of our home, and easy to work with.

The Evergreen Team did a fabulous job and was very tuned and responsive to the particular needs we had. The job was done right on budget and we are thrilled with the improved warmth and energy efficiency.

Evergreen came back this year to finish insulating our house. We have been remodeling and renovating an 1850s cape for several years. Their employees are very professional and pleasant to deal with.

Led by Brian Robinson, the Evergreen Home Performance team just completed an insulation refit at my home.

Great job installing windows and insulation.

Update 12/2018: Evergreen has completed Phase II of my house (insulating and installing air/moisture barrier on exterior walls, replacing old windows) and now that heating season is upon us, the difference is astonishing. The house is tight as a drum and so easy to keep warm. Worth every penny... Read More

We had Evergreen energy do blow-in cellulose. I was very happy with the result. They tested with blower-door before and after. House is now MUCH warmer.

They were highly recommended. I found them to be very knowledgeable and so helpful, with practical ideas.

Evergreen came out 2 years ago to do an assessment and insulate our roof. This year we had them come back and do the basement as well. They are hands-down the best crew we've ever hired to work on our house. They are experts at what they do, and super meticulous in their work.

Evergreen removed and replaced the insulation in my attic. They did a great job!, Crew was excellent, and the whole thing went smoothly, and the attic was NOT easy to get into or work in, so kudos to some hard work done well!

I have always been impressed by the high level of service, quality of work, and excellent follow-through provided by Evergreen Home Performance in the three projects that they completed at the Wells Reserve at Laudholm over the past several years.

We had Evergreen redo the insulation in our roof. The team handling our project did a great job. They left the house spotless. We've already noticed the difference in how much better our house is retaining heat. I would definitely recommend and will use them for future projects.

Evergreen has insulated two homes that we've owned now and both times we experienced exceptional service and craftsmanship.

Several years ago Brian Robinson evaluated the crawl space at my summer home on Islesboro where I knew moisture was becoming a problem. I had done quite a bit of work in the space many years prior with mixed results.

Evergreen Home Performance shows its expertise from start to finish. Evergreen did three house projects in winter/spring/summer 2020 for me, attic insulation, crawl space under a porch insulation, and basement foam/vapor barrier.

Thorough, smart, informative, integrated, and communicative -- that's how my experience was with Evergreen even with the covid interruption midstream. The team picked up where they left off, insulated basement and air sealed attic and knee wall in 100' temps under the eaves!

I cant say enough about this company and the benefits that it created for our family. They are very professional and have effectively re-insulated our home. The heating bill proves the point.

We had Evergreen Home Performance of Rockland come in to make our home more energy efficient, and what a TOP notch crew. Brian and his crew did an amazing job from start to finish. Very knowledgeable and professional.

Bryan, Dave and the entire Evergreen team are wonderfully professional, prompt and thorough. I enjoyed working with them and look forward to continued work as we upgrade our home! Thank you so much for your professionalism, fairness, time and diligence.

I am very pleased with my experience with Evergreen Home Performance. I met several times with Richard Burbank and he was very detailed in his explanations to all of my questions. He provided me with several options for improving the insulation to our home.

I was extremely pleased with the professionalism and quality of service that I received from the Evergreen team. I met Richard to discuss options for insulation. I knew immediately that I wanted to do business with them because he did not try to over-sell extra services that I did not need.

Evergreen did a fantastic job insulating our 1930's home. The onsite team was professional, clean, and really just a joy to interact with throughout the process. A blower test at the end showed a significant decrease in air leakage. I highly recommend Evergreen.

Very Satisfied with the work performed by Evergreen. Professional employees, high quality work done in a timely manner. My sales rep was Justin, and he was phenomenal During the initial walk around my house, he gave me great ideas for how to improve the efficiency of our home.

Evergreen did a fantastic job replacing 28 windows in our house. They were friendly, courteous, and very detail oriented. Brian did a great job planning, estimating and executing the project. Our energy use has dropped significantly since the work was done.

We are thrilled with the job Evergreen did to transform our 213 year old home into a warm, draft-free, cozy space. The entire team led by Bruce was prompt, courteous, knowledgeable, and hard working.

We had Evergreen come out to our tiny old (100+ year old) house to see what they would recommend for decreasing our carbon footprint, saving money, and increasing our comfort in the cold season.

Evergreen listened and produced a thoughtful evaluation, proposal and comprehensive plan for our attic and basement. They exhibited excellent workmanship, teamwork, and came back as planned after the completion of the job to test the outcomes.

The team members were very professional, worked very hard, paid very close attention to detail and cleaned up meticulously every day. I really appreciated the care they took knowing the smallest details were going to make a big difference to our heating bills. Thank you!

Evergreen completed the work at my home thoroughly and professionally. An inspector from Efficiency Maine came to inspect afterwards and described it as "state of the art" and "outstanding". The crew was very pleasant and considerate during the project. Their cleanup each day was perfect.

I cannot say enough great things about working with Evergreen Home Performance. Everything including the initial consultation, the fabulous work crew, the office support and the final resolution was handled in a caring and professional manner.

We just finished a large project air sealing and reinsulating our 1890s basement and attic. It had been completely renovated 8 years ago, but still felt cold, and lacked proper energy assessment and corrections.

Really great experience from start to finish with Evergreen. They helped us prioritize what needed to be completed first, and has made a significant difference in our hearing costs already. Plus they were really friendly and considerate to work with!

Evergreen was so helpful in securing us Efficiency Maine funding for a big attic insulation project early this winter. They did all of the paperwork, and totally guided us through a vermiculite removal process that included a payment from a trust for the procedure.

I never leave reviews, but had a great experience with Evergreen and wanted to spread the word! In short, we worked with them to insulate our roof this winter and have noticed surprising immediate results.

We initially contacted Evergreen through Efficiency Maine for an energy audit, which was conducted promptly and professionally by Justin McEdward, one of their Energy Advisors who is BPI-certified.

I waited a year to write this review. Evergreen finished our job late last winter. Terrific results!!! we've gone from 12-day propane deliveries to 30+ day propane deliveries. The house is noticeably warmer.

From start to finish, our experience was incredible. Justin was extremely helpful. The crew was fast, friendly, and efficient. And most importantly, our home is WAY warmer and our heating is less costly. I'd highly recommend evergreen to anyone looking to upgrade their home!

I highly recommend Evergreen! 1st, I had a home efficiency inspection (that was free) & Bryan P. was great! He took the time needed, asked & listened to what I thought were priorities, explained clearly what he thought were priorities & why, then gave me numerous options.

Professional, friendly and hard-working staff. The product/approach they use for insulation is top notch. We felt the difference immediately, both from added warmth and eliminating drafts. The team and management were easily available to answer our questions or coordinate meeting times.

The Evergreen crew who installed insulation in my attic were fantastic! They were very professional, worked exceedingly hard, and they did an excellent job. They were very pleasant and friendly to be around.

The Evergreen Team did a fabulous job, well exceeding our expectations, In just over a week they transformed our very drafty, noisy 213 year old house into a snug, draft-free, quiet haven with warm floors! The team was prompt, did everything they said they'd do and more. We are thrilled!
Blog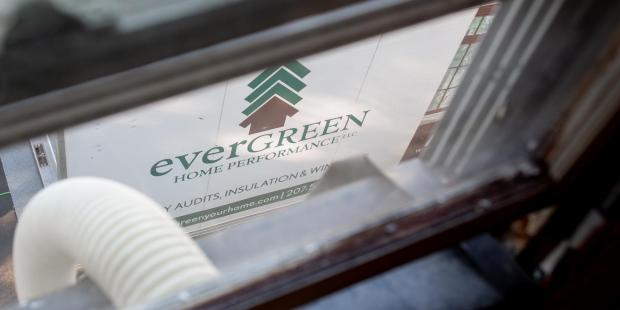 Making energy efficiency upgrades to your home can provide many benefits—like more comfort and lower heating and cooling bills—but the initial cost of services can be difficult for many Midcoast... Read more
Case Studies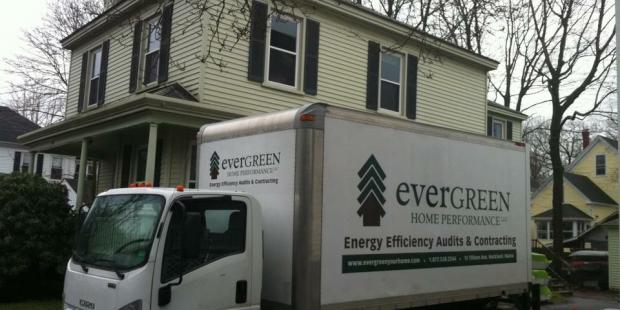 Matt and Christa knew that the home they had just purchased in the neighborhood they loved -- for the price they could afford -- was going to need a...
Read More