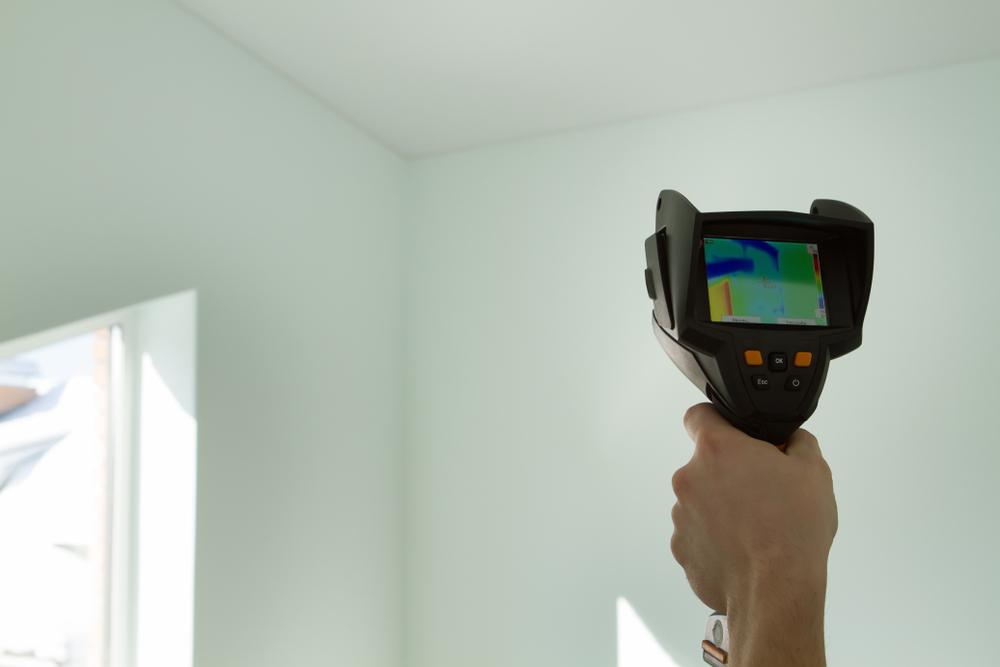 Thermal imaging has many applications throughout many fields. But when you schedule an energy consult here in Maine, did you know that thermal imaging plays a vital role in helping determine how you can increase your home's energy efficiency? Evergreen Home Performance may not be a thermal imaging company, but we do heavily rely on thermal image cameras to locate the problematic areas in your home undermining your overall indoor comfort and keeping your heating and cooling costs higher than they need to be.
Here is how we use thermal imaging and diagnostics to understand efficiency issues in both older historic homes as well as newer high performance homes throughout the state.
How Thermal Imaging Works
Every surface in a house gives off a certain amount of heat — even your own skin! Walls, floors, ceilings, windows, furniture, and just about everything else contain detectable heat. But the problem is that heat isn't visible to the naked eye. A thermal camera shows the differences in heat between each of these surfaces. In a home performance application, this is used to locate surfaces that are warm when they are supposed to be cold, or cold when they are supposed to be warm. 
How the data from a thermal imaging camera is analyzed depends on the time of year, as well as the area of the home being analyzed.
For example in the summertime, one of our Evergreen Home Performance energy audit professionals may use a thermal camera to improve the insulation in your walls. Pointing the camera at an interior wall shows how effective the wall insulation is by exposing the surface temperature. Your energy auditor will be able to tell which shade of red, orange, or yellow indicates that the insulation is lacking and is allowing too much heat to transfer in through the walls. 
In the winter, this is reversed by looking for shades of blue or green that indicate cold air is actually coming in through the walls!
What a Thermal Camera Can Find
We use thermal cameras to locate the following home performance issues:
Air Leaks
Acute changes in temperature can indicate that there is an air leak present. Examples of air leaks include hidden pipe, duct, or chimney chases, gaps in framing connections, and poor roof construction.  Properly and thoroughly air sealing these areas further stabilizes indoor temperatures and increases overall indoor air quality.
Attic & Basement Insulation
Thermal cameras are great at finding un- or under-insulated spaces in the two most important areas of your home to insulate: your attic and your basement/crawlspace. Whether it's a question of the condition of insulation underneath attic floorboards or behind walls in a finished basement, thermal camera inspection helps to illustrate what is not visible in a normal inspection. 
Wall Insulation
We can't exactly tear down the sheetrock of your existing walls to take a look at the insulation. Thermal images provide the closest we can get to "x-ray vision" when it comes to determining how to tell where you need insulation. 
Thermal inspections also help the advisor understand how window installations are performing and what kinds of air leakage might be occurring around the window frame.
Understanding Your Energy Flow - It's All Part of Evergreen's Design Process 
When you're ready to explore improving the energy efficiency of your home, make sure you contact a contracting company that uses comprehensive energy diagnostics in their project design. How do you incporate an energy audit for your home improvement project? It's simple: call Evergreen! Thermal imaging and diagnostics are all part of our comprehensive consultation and design process. Our team will take a good hard look under the hood of your home, and help you accomplish all of your home comfort and energy goals. 
From fixing the air leakage in your home using a blower door test and thermal imaging to reducing your energy consumption through better insulation our team will help you to "Evergreen your home!" 
Wondering how much insulation you need in your existing walls? Schedule an energy consult with Evergreen Home Performance today and find out! Call us at (207) 594-2244 or you can get in touch here.
So you want to save energy this year, but you aren't sure where to start?
Start with an energy consult!
Blog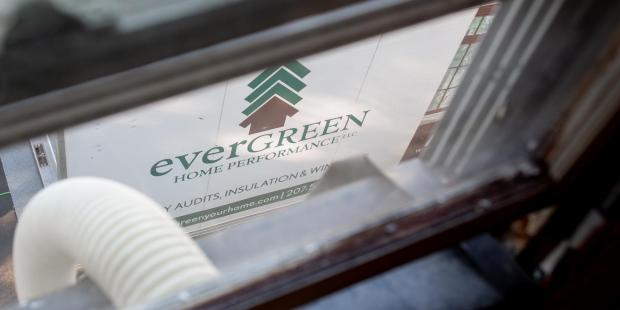 Making energy efficiency upgrades to your home can provide many benefits—like more comfort and lower heating and cooling bills—but the initial cost of services can be difficult for many Midcoast... Read more
Case Studies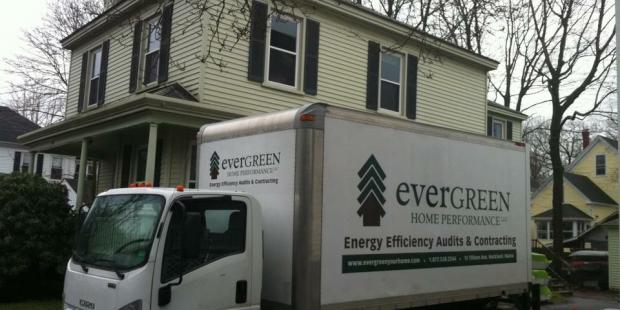 Matt and Christa knew that the home they had just purchased in the neighborhood they loved -- for the price they could afford -- was going to need a...
Read More