Does your house seem musty or unusually damp? If so, you're not alone — many homes here in Midcoast and Southern Maine often have excess moisture issues.
Typically, these issues can be traced to a basement with excess moisture. Moisture from the basement diffuses throughout the home, fostering mold growth and compromising your indoor air quality. Fortunately, you can eliminate basement moisture issues and improve the overall health of your home with basement encapsulation.
The Dangers of Excess Indoor Moisture
Many homeowners from Rockland down to the Portland area underestimate the dangers of excess indoor moisture. When left unchecked, this excess moisture not only harms your home but also undermines the health of you and your family.
In your home, high humidity and excess moisture can lead to a number of structural issues such as peeling wall paint, crumbling drywall, wood swelling, and frame rotting. Moisture can also accumulate on insulation, rendering it ineffective and detracting from the overall comfort and efficiency of your home.
Then there are health-related effects to consider. Mold and dust mites thrive in environments where the humidity level is above 50%. This means that excess moisture can quickly lead to poor indoor air quality, along with allergy symptoms such as coughing, sneezing, itching, and asthma.
Basement Encapsulation for a Clean & Dry Home
Your basement has a major influence on how comfortable, healthy, and efficient your home is, so it's important to address any moisture issues if they are present. At Evergreen, we transform damp and musty basements with professional basement encapsulation.
Basement encapsulation eliminates basement vapor intrusion and air leakage through a multi-step process. This includes draining excess water using trenches and/or a sump pump; installing a heavy duty vapor barrier to prevent moisture infiltration; and securing the vapor barrier with spray foam insulation. Encapsulation may also involve radon mitigation and pouring a concrete slab to ensure indoor air is safe and healthy.
Benefits of professional basement encapsulation include:
Greater indoor moisture control

Fewer moisture-related issues

More usable space in your home

Better indoor air quality

Reduced allergy symptoms
Transform Your Basement with Evergreen
At Evergreen Home Performance, we specialize in making Maine homes healthy, comfortable, and energy efficient. If your basement seems musty or damp, be sure to consult our experts. We'll answer your questions, assess your needs, and design the right solution to transform your basement.
Your basement doesn't have to be damp and musty. Contact us or call (207) 594-2244 today to schedule basement encapsulation!
Blog
Keeping your home warm during the winter is important here in the Portland area and MidCoast Maine. However, poorly insulated homes allow precious heat to escape, leading to hefty energy bills and... Read more
Case Studies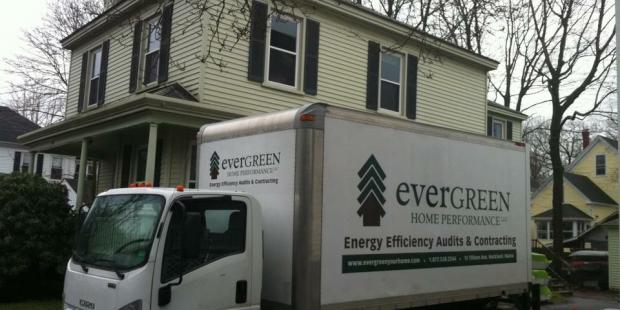 Matt and Christa knew that the home they had just purchased in the neighborhood they loved -- for the price they could afford -- was going to need a...
Read More