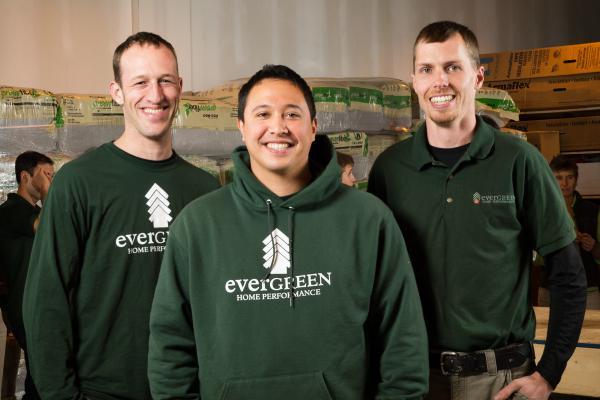 The Benefits of a Career with Evergreen Home Performance
At Evergreen Home Performance, we believe that providing good, sustainable jobs for our employees benefits everyone. Our current openings in both Portland and Rockland offer:
Competitive Pay
Paid Vacation & Holidays
Monthly Healthcare Bonus
Friendly Work Environment
All Full-Time Positions
Company-Matched IRA
On-the-job Training
$500 Signing + Referral Bonus
WE ARE ALWAYS LOOKING FOR TALENTED PEOPLE
Interested in joining our growing team of home performance professionals? We want to hear from you! Read more about our current opportunities below, or click to contact us now! We're always happy to accept your resume + cover letter and begin a conversation.
Current Opportunities
Summary:

The Customer Service Representative sets the tone for the Evergreen customer experience by interfacing with in-coming customers in both in-person, phone and e-mail interactions.

Helpful Experience:

Customer Service, Scheduling & Data Entry

Summary:

Join the Green Revolution! Help Maine people enjoy their homes, save money, and get off fossil fuels. Hiring energetic person with great sales & people skills for career in residential energy efficiency. An Energy Advisor works in the Sales department to help customers achieve their goals with residential energy efficiency, window/door replacement, and indoor air quality and comfort upgrades.

Helpful Experience:

Helpful Experience: Sales, Building Construction, Contract Estimating, Energy Auditing, Computer Applications

Summary:

Technicians install air-sealing, insulation, and basement encapsulation upgrades, including caulking, blown-in insulation, basement liners, duct & pipe wrap

Helpful Experience:

Home Construction/Trades, Weatherization Services, Customer Service
$500
Signing Bonus
&
$500
Referral Bonus
*payable after 3 months of successful employment
DON'T JUST TAKE OUR WORD FOR IT!
HERE'S WHAT THE EVERGREEN TEAM HAS TO SAY:
Join the Evergreen Team
Since 2006, we've helped thousands of people reduce their energy consumption and become more comfortable in their homes. Along the way, we've shared our passion for energy efficiency by training dozens of home performance professionals, participating in community weatherization and outreach events, and advocating for policies that improve energy security for working families.