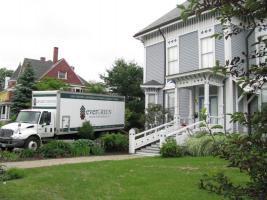 The House
Bowers Mansion is a 3500 square foot historic home in Saco, Maine.  Built in 1885, the balloon-framed home had long, uninsulated chases behind every wall.  Even with a third of the house closed off and the thermostats low, heating to a livable temperature took a whopping 1800 gallons of oil.
The Homeowners
Homeowners Rob & Amy didn't mind keeping Baby Clara in her snowsuit all winter, but when they discovered the dogs' water dish skimmed with ice one morning, they knew something had to change. They talked about doing some work themselves, but "we wanted to make sure we brought in professionals who could do it right and to preserve the house for future owners," said Rob.
The Audit
Evergreen President Richard Burbank used a blower door test to evaluate air leakage and infrared analysis to identify areas of heat loss.  The results were no surprise: "You could stand in the attic and shine a flashlight down through the walls into the basement," says Rob.
The Project
Richard recommended fully insulating Bowers Mansion, including the basement and all the walls.  Dense-packed cellulose was blown in to the wall cavities, and the foundation wall was covered with spray-foam insulation to one foot below grade.  The homeowners financed their initial investment with an Efficiency Maine loan.
The Results
With a projected annual savings of more than $1700, it will take less than 10 years for the Dudleys to recoup their investment.  Their energy consumption will be 30% lower this winter- and baby Clara won't even have to wear her snowsuit inside. 
Blog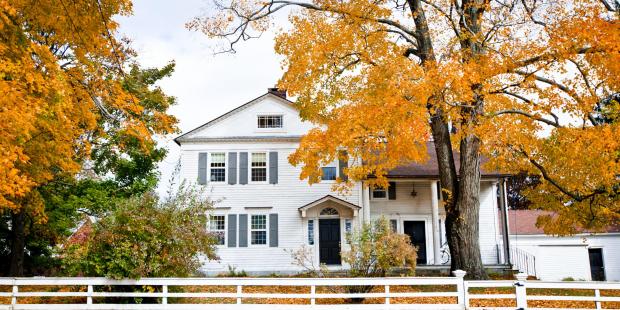 Not sure when to schedule your Maine home energy audit? We have good news for you—a home energy audit can be performed at any time of year! Evergreen Home Performance conducts energy consults and... Read more
Testimonial
The Evergreen Team did a fabulous job, well exceeding our expectations, In just over a week they transformed our very drafty, noisy 213 year old house into a snug, draft-free, quiet haven with... Read More