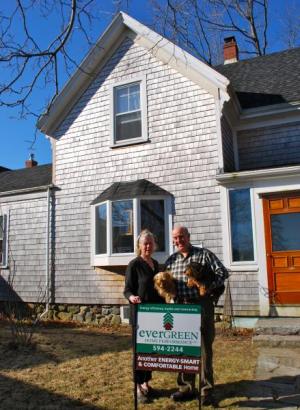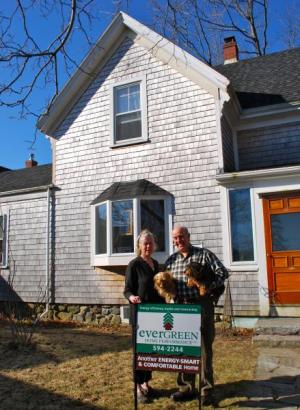 The House
This 1900 Gable-front home in sits on an acre of land in the middle of Camden, Maine.  Burning 3 cords of wood and 550 gallons of propane kept the 1430 sq ft mostly warm, though some rooms were freezing while others boiled.  Plus, "a furnace that ran all the time to heat the water" wasted much of that energy. 
The Homeowner
Jim and Misty love their historic home, but they "don't like heating the outdoors, or wasting money that goes right up the chimney."  They knew a home performance project that cut their fuel use would make their home more comfortable and save them money in the long run, but they weren't sure they had the cash flow to pay for a project up front.  So when Camden voters approved Efficiency Maine's long-term, low-interest PACE loan program, Jim saw it as "an incredible opportunity," and called Evergreen Home Performance.
The Audit
Energy Advisor Brian Robinson used a blower door test to evaluate air leakage and an infrared survey to identify areas of heat loss where insulation was missing.  Computer energy modeling helped to quantify the savings from improvements in the attic, basement, and sidewalls that would reduce air leakage and energy loss.
The Project
Air sealing and replacing ineffective fiberglass insulation with high performing cellulose dramatically improved the attic's thermal barrier.  Dense packing blown-in cellulose into empty sidewall cavities and insulating beneath a bay window made the house warmer and quieter.  P.G. Willey replaced Jim & Misty's leaky, inefficient hot water storage tank with an on-demand system that only draws energy when they actually need hot water. 
The comprehensive project required an investment of $15,000, all of it financed with a 15-year, 4.99% PACE loan with no application costs. 
The Results
"As individuals, we have so few opportunities to do really concrete things that reduce our dependence on oil, stimulate the local economy and protect our environment," said Jim.  Reducing their home's air leakage by 46%, adding effective insulation and more efficient systems inspired a real passion for home performance. 
For $118 each month (only 54 cents more per day than their former energy bill), Jim & Misty enjoy fewer drafts and consistent comfort throughout their fully-insulated home.  They've increased the value of their home by bringing it from 1900 energy standards to modern standards of efficiency, and they've made a sound financial investment.
"When it comes to money management, it's a lot easier to control how much you spend than it is to control how much you earn," says Jim. "Reducing our energy waste is a big part of our financial planning."
Blog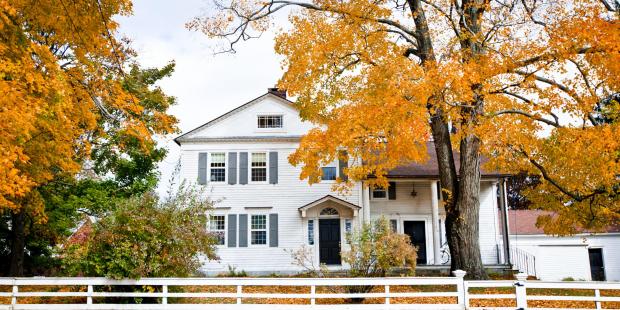 Not sure when to schedule your Maine home energy audit? We have good news for you—a home energy audit can be performed at any time of year! Evergreen Home Performance conducts energy consults and... Read more
Testimonial
We couldn't be more pleased with the easy, professional, high-value service from Evergreen.