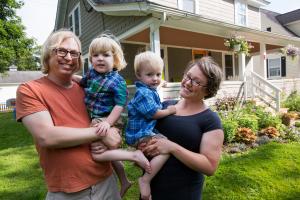 The House
Wyatt and Emily hadn't lived in their 1930s bungalow very long before they called Evergreen. From "crazy ice dams" to basement moisture, they had a list of concerns that weren't going away – or allowing them to fully enjoy their home. "It didn't seem like the house was about to fall down, but it didn't seem sustainable either," says Wyatt.
The Consult
Wyatt and Emily asked Evergreen to evaluate their home for opportunities to save heating dollars, improve comfort, and address the basement moisture and ice dam problems. "Everyone says Evergreen does great work, but that it's expensive," says Wyatt. "Well, the point of doing this was to make our house somewhere we could live forever. It makes more sense to pay for it to be done right than try for a quick fix."
Right from the start, they had confidence that Evergreen would help them accomplish those goals. "I could tell that our Energy Advisor knew what he was talking about, and what he said made a lot of sense." He pointed out that basement moisture isn't just stressful – it compromises indoor air quality and presents a real threat to a home's structural integrity.
The Audit
Blower-door testing revealed that Wyatt & Emily's home was much leakier than recommended, mostly because of the un-insulated basement foundation and under-insulated attic. This uncontrolled exchange of interior and exterior air that meant they had to heat the house from scratch every seventy minutes, driving up fuel costs and keeping the house uncomfortably cold. Though infrared analysis revealed many air leaks and opportunities to tighten the house, their Energy Advisor explained that basement moisture needed to be addressed first. Otherwise, humidity would increase and the tendencies toward mold and structural rot would just get worse.
The Project
Evergreen engineered a full basement encapsulation to eliminate the moisture problems that had caused so much stress and anxiety for Wyatt and Emily. "When you have a young family, there are enough stressors in your life. Anything you can do to lower that level of anxiety is worthwhile, and now we don't have to worry about massive amounts of moisture penetrating the house and rotting it out."
Evergreen's trained, certified production team made the improvement process worry-free, too. "Everyone was so accommodating, nice, and easy to work with," says Wyatt. "Their attitude was, 'We're here at your house, and we're going to do whatever we can to make it better.' And they did."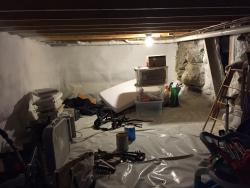 The Results
Wyatt and Emily deem their Evergreen project an unequivocal success. The 48% reduction in air leakage made their home much more comfortable, and the encapsulated basement is so dry they can use it for storage.
"We use less oil, the floors aren't cold, the temperature stays stable, we don't smell the basement upstairs anymore, and we have so much less stress and anxiety," says Wyatt. "You think those problems are just part of having an old house, but they don't have to be. You can have that old house charm without the old house headaches."
Blog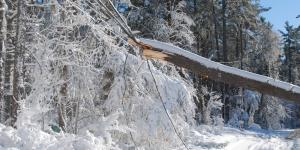 Here in Maine, the power can go out for long stretches of time due to the weather ("ice crisis" of '98, anyone?) This is especially true with the number of extreme weather events on the rise. Even... Read more
Testimonial
Evergreen is a terrific company to deal with. Polite and efficient crews, meeting deadlines and major reduction in our heat bills.