This 1800's cape qualified for the first 50% energy reduction incentive of $3,000 from the Efficiency Maine Home Energy Savings Program.  The home is beautifully renovated on the interior but the wet, drafty basement, lack of wall insulation, and leaky attic all caused the home to be very hard to keep heated.  Despite burning 7 cords of wood and 350 gallons of oil every winter, the owners still had to wear coats and hats inside to stay comfortable. 
The first step to addressing the air leakage and heat loss was fixing the basement moisture, which threatened to rot the historical building from the inside and exacerbate the musty, damp smells.  A comprehensive drainage with sump pit was installed along with an air tight reinforced vapor barrier was installed to control moisture and drafts.  The vapor barrier was sealed and joined to the walls with 2" of spray foam to insulate and seal the leaky rubble stone foundation.  The spray foam must be covered with a fire protection paint, which gives the basement walls a tidy, bright white appearance. 
The forced hot air heating system had duct work that was very leaky and lacked insulation.  After sealing and insulating the ducts, most all of the heat from the furnace could make it to the living areas. 
The side walls and roof slopes were insulated with dense pack cellulose, sealing air leaks while insulating against heat loss.  The attic leaks around the chimney, wiring, plumbing, and wall tops were also sealed before a final layer of insulation bringing the R-value to 60. 
At the completion of the project, the total air leakage of the home was measured and found to have dropped by 35%.  The homeowners found their home much more comfortable for the rest of the winter.  Come spring time, they found they had quite an unexpected problem as they prepare their barn for summer time activities.  What to do with the cords of extra wood stored in the barn?  
Blog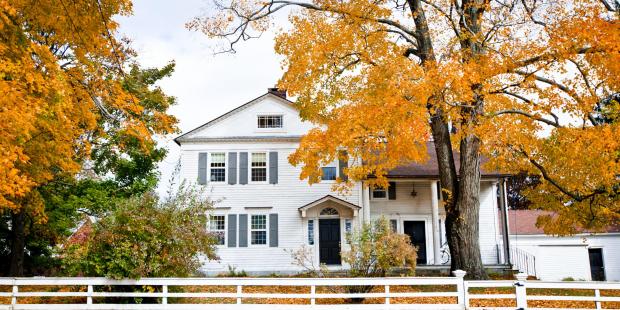 Not sure when to schedule your Maine home energy audit? We have good news for you—a home energy audit can be performed at any time of year! Evergreen Home Performance conducts energy consults and... Read more
Testimonial
I used to spend winters in the bathtub because my house was so cold. This was my first winter roaming around my whole house comfortably. This even led me to decorate a little.
Claire Helene Bevan, Camden