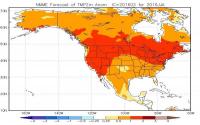 What does the warmest winter on record mean for summer comfort?
It's not your imagination: Maine really did just go through the warmest winter in 121 years of record keeping, and we had lots of company. According to NOAA data released this week, almost every state experienced warmer-than-normal temperatures, all six New England states set winter records, and spring has already sprung.
If birdsong, crocuses, and 60° days in March don't sound so bad to you, you're not alone. But you might change your tune when you get a look at the summer forecast, because it's going to be hot.
A record-warm winter may have its perks, but there are no upsides to a record-hot summer. Few Maine homes have air conditioning; comfortable summers have always been our reward for making it through long, snowy winters. High temperatures can change that, and may even pose health dangers.
Luckily, the insulation improvements you think of for winter comfort will also make your home cooler this summer. Contact us for a free consult to learn how.