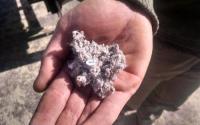 Evergreen Home Performance is proud to announce its discovery of the word "and," lost sometime in 2013 in the Maine State Legislature, and its intention to return the word to its rightful owners, the people of Maine.
"It's not unusual to find a bit of a building's history in our line of work," says Evergreen's president, Richard Burbank. "But – or maybe I should say and – this discovery is surprisingly important."
Evergreen's line of work – energy analysis, insulation, and other efficiency upgrades – has been in danger since Maine's Public Utilities Commission voted 2-1 to permanently slash energy-efficiency funding. The PUC acknowledges that the ruling was based a typographical error in the bipartisan 2013 Omnibus Energy Bill – the missing "and" – and directly contradicts the Legislature's intent.
How the "and" was lost is uncertain, but Evergreen technician Christopher Hopkins gets credit for finding it. He was installing cellulose insulation in an attic when he noticed an unusual bit of intact paper with one very clear word.
"It just jumped out at me," says Hopkins, who has been analyzing the PUC's ruling in one of his graduate classes at the Muskie School of Public Policy. "I've been following the case of the missing "and" closely, so I knew how important that word might be."
Once he brought the discovery to the attention of the project manager, Evergreen immediately contacted its cellulose supplier, which verified that the feedstock paper for that lot of cellulose had come from the Maine Statehouse back in 2013, just as the legislative session was coming to a close.
With the missing "and" located and returned, Maine people and businesses can continue to utilize Efficiency Maine's incentive for high-efficiency lights, heating equipment, and other building improvements. "Maine people understand the importance of reducing their home energy needs to protect themselves from fuel cost volatility and rising prices," says Burbank, "and now that Efficiency Maine funding has been restored, this important work can continue.