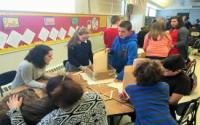 When Brunswick Junior High teacher Cris Lavigne told us about the weatherization project her 7th graders are working on, we knew we wanted in. How could we say no to an interdisciplinary project that highlights the science, economics, politics, and logistics of energy efficiency? 
We knew we'd have plenty to talk about, and we knew we wanted it to be fun, so Energy Advisor Cree Krull hatched an energy efficiency challenge in the grand tradition of Cutthroat Kitchen. Who could build the most efficient "home" starting with cardboard from the cafeteria insulation and air sealing materials from the school supply aisle?
"The kids can unequivocally confirm that well-taped plastic wrap is great at reducing air leakage but not so great at stopping heat loss," said Cree, who offered advice during the construction phase and helped students test their structures with fans and infrared cameras. "And we can extend that observation to explain why homes need air sealing and insulation."
After the competition, Cree demonstrated how those real tools are used to assess full-size buildings. (Spoiler alert: Whoever built the modular classroom Cree is evaluating here should have asked the kids for some air sealing advice.) 
We wrapped up with some horror stories from the field, including the grossest, scariest, and weirdest things Cree has seen, and judging from the looks on the kids' faces, we may have some future employees in training already.