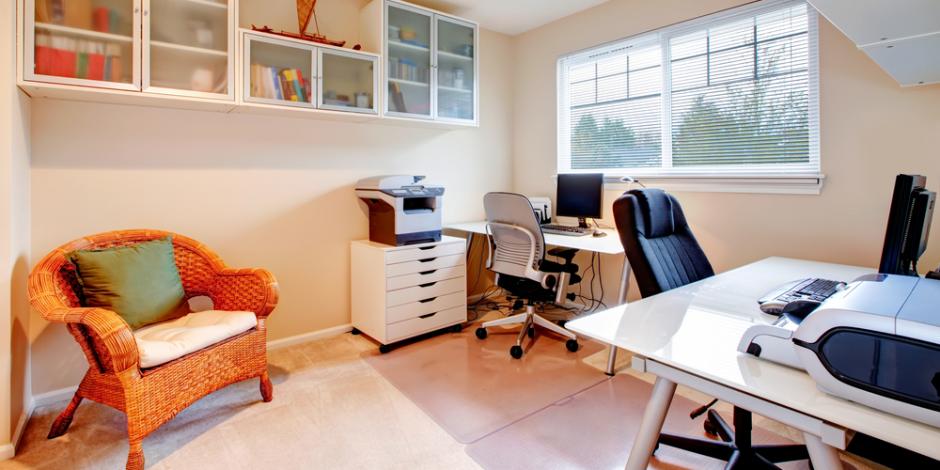 2020 has been the year of the home office, and across the country, people have scrambled to find a suitable space to work from home. If you happen to have an unused bonus space in your Portland or Kennebunk home, such as an empty room above your garage or extra space in your attic, you may have moved in with a desk and a laptop, thinking it would be a temporary workspace. But as remote work becomes the norm here in Maine and throughout the country, many people are searching for a more permanent solution, and a converted bonus room offers just that. 
As you begin the process of converting that spare room into a permanent home office, you may be tempted to put your entire budget towards decorating the space, but you'll be a lot more comfortable in the long run if you invest in performance upgrades instead. Bonus rooms tend to lack the same kind of insulation and energy-efficient windows that your core living space likely has, which can make them cold and uncomfortable in the winter and blistering in the summer, not to mention a drain on your energy costs. To make the space as comfortable as possible, consider these key steps as you get started on your bonus room transformation:
Upgrade the Insulation in Your Spare Room 
Insulation slows the transfer of heat between your home and the outside world. Without it, your bonus room will be freezing cold in the winter and sweltering hot in the summer. This makes for an extremely uncomfortable working environment, so it's crucial to invest in proper insulation for your new work space. Depending on where your bonus room is located, you may need: 
Without the right insulation, your HVAC system will have to work overtime to regulate interior temperatures, which can cause your energy bills to skyrocket. Poor insulation may not have been a major problem if you weren't using your bonus room much in the past, but if it's going to become a permanent workspace, you need it to be well insulated. Plus, a properly insulated space is quieter, which can help make working from home more productive.
Seal Up Any Air Leaks 
Air sealing is the process through which gaps and cracks in your home's construction are located and filled in to keep conditioned (heated or cooled) air in and outside air out. This helps the room maintain a consistent temperature without having to rely as heavily on heating or air conditioning, which can help you save on your energy bills. 
Air sealing also helps keep contaminated outdoor air from getting inside your home, improving your indoor air quality so that you can breathe cleaner, healthier air. 
Air sealing works best when paired with proper insulation, so you should consider investing in both in order to get the most out of your bonus room renovation. And if you're wondering just how much air sealing and insulation could help you save on your energy bills, the answer is a lot. The Environmental Protection Agency estimates that, with proper air sealing and insulation, homeowners can save an average of 15% on their heating and cooling costs.
Have New Windows Installed by a Replacement Window Contractor   
If your bonus room has been unused for a while, chances are the windows are outdated and need to be replaced. And if you've ever had to sit by a drafty window for a long period of time, you know how important it is to outfit your home office with energy-efficient windows. New, high-performance windows will stop conditioned air from escaping through your windows, keeping your office more comfortable and helping you save energy. Plus, a variety of glazing options makes it possible to reduce glare and improve working from a home computer. It's important to hire an experienced replacement window contractor to upgrade your windows, rather than go the DIY route, as energy-efficient windows can only do their job if they're installed correctly. 
Hire a Professional! 
Working with a skilled contractor is crucial when you're doing any kind of renovation work, especially when the project is extensive. For insulation, air sealing, and window replacements, you definitely want to work with a contractor who knows what they're doing — especially as we head into the coldest winter months here in Maine. These are complex upgrades, after all, and you want the job done right. Homeowners in the Portland and Kennebunk areas can feel good about turning to Evergreen Home Performance for an exceptional upgrade. 
We'll start your project with a comprehensive energy audit that will show us where you're losing the most energy so that we can guide you toward the products and services that will have the greatest impact on your home's energy efficiency and overall comfort. With us at your side, you'll achieve:  
Maximum energy savings 

More comfortable and consistent interior temperatures

Better indoor air quality
Want to turn your bonus room into a permanent home office? Evergreen Home Performance can help you make the space as comfortable and energy efficient as possible. Call (207) 594-2244 or reach out here to get started.