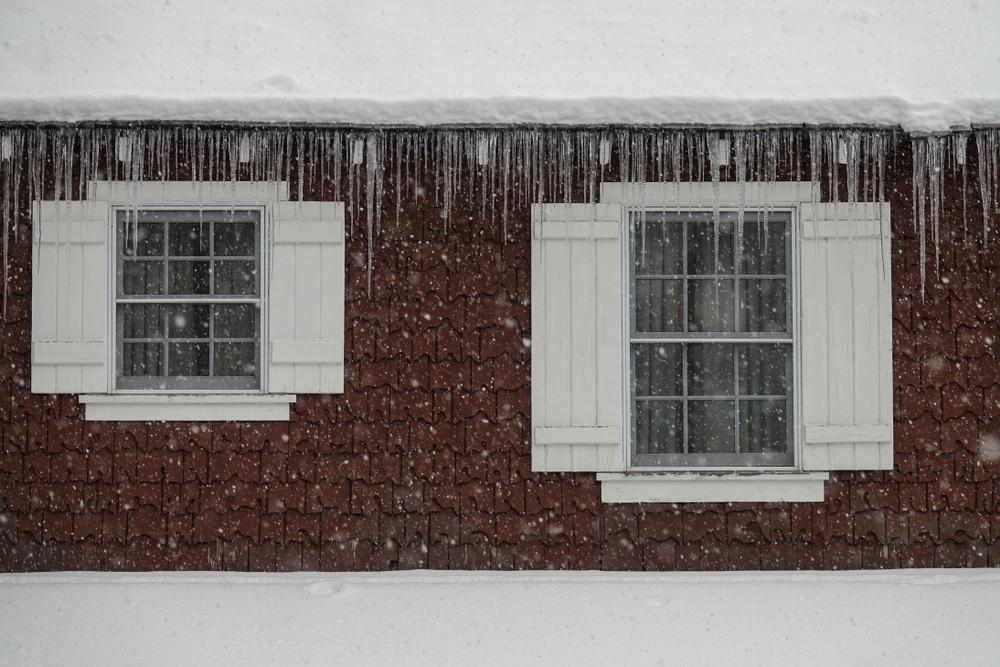 We're in the thick of another long Maine winter, and if you are already tired of shoveling your sidewalks and driveways, you're not alone. As you manage the snow around your house this year, there is one area you may be forgetting to keep a close eye on: your roof.
The roof is a common site for ice dams and icicles during the winter. If you're starting to see ice accumulation along your roof's edge, it is a sure sign that it's time to upgrade your attic insulation.
Why Upgrade My Attic Insulation?
Homeowners often ask us what ice dams have to do with attic insulation. The answer has to do with how ice dams form in the first place.
Ice dam formation begins in a warm attic. Attic heat melts accumulated snow on the roof, which then flows down to the edge of the roof where it is cooler. When that melted snow reaches the roof's edge, it refreezes and forms a "dam." Over time, water will pool up behind this dam and seep underneath the shingles, potentially leading to mold growth, wet insulation, interior water stains, and exterior roof damage.
If you want to keep ice dams from forming, it's important to keep heat from escaping into the attic in the first place. While heat has a natural tendency to rise in a home, attic insulation and air sealing stop rising heat from entering the attic and keep it down in your living spaces where it belongs.
Attic Insulation Offers Additional Benefits
Proper attic insulation and air sealing go a long way in keeping ice dams from forming on your roof during the winter — but that's not the only benefit these energy saving upgrades offer. When you have a trusted insulation specialist upgrade your attic insulation, you can expect whole-home benefits like:
A warmer home in the winter

Stable comfort from room to room

Less need to run your heating system

Greater home energy efficiency

Lower annual heating costs

A cooler home in the summer
Plus, because attic insulation helps make your home more energy efficient, it qualifies for up to $2,500 in rebates from Efficiency Maine.
Evergreen Is Your Local Insulation Contractor
Don't spend another winter putting your home at risk of the damage that ice dams can cause. If you're seeing ice dams and icicles along the edge of your roof, talk to the team at Evergreen Home Performance about upgrading your attic insulation before your ice dams cause any damage. During a free consult, we'll discuss your home's pain points and show you how attic insulation can help you prevent ice dams, save money, and feel more comfortable all winter.
Seeing ice dams on your roof? It's time for an insulation upgrade. Call (207) 594-2244 or contact us to talk to your local home insulation expert!
Ice dams and icicles on your roof?
Prevent damage to your home with proper insulation.