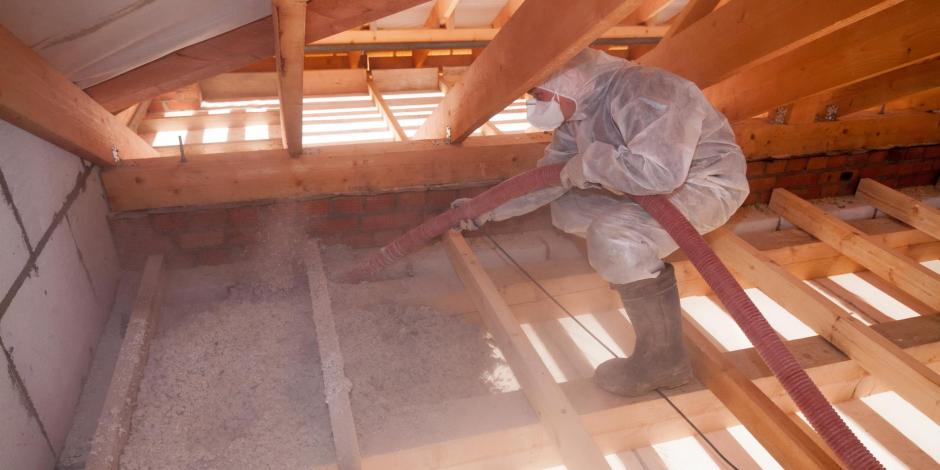 For many homeowners, upgrades to insulation can help with increased home efficiency, more consistent temperatures, lower energy bills, and more. And, for homeowners who want to make these upgrades in an environmentally-friendly way, there are many options available. 

Today, we're digging into:
Why insulation is essential for homeowners

How upgrading your insulation helps the environment

What types of insulation are eco-friendly

How the local experts at Evergreen Home Performance can help!
Why Is Insulation Important for Maine Homeowners? 
For homeowners throughout southern and midcoast Maine, insulation and air sealing are important for whole-home energy efficiency. Insulation works by slowing the transfer of heat from one place to another: Proper insulation prevents heat from escaping your home during winter and prevents it from entering when it's warm outside. 
Unfortunately, many homes in Maine lack proper insulation and/or have leaks, cracks, and holes that make in-home temperatures inconsistent and unpredictable (not to mention, lead to high energy bills). For homes like these, replacing insulation and sealing leaks can result in significant improvements to home efficiency, comfort, and overall health. 
Additionally, upgrading to proper insulation is great for the environment! Energy-efficient homes require less energy, meaning your house will have a smaller carbon footprint. So, home performance upgrades are good not only for you but also for our planet and our communities. 
What Types of Insulation Are Environmentally-Friendly? 
Here are some of the high-performance, eco-friendly insulation options that Evergreen installs in homes across the state: 
Blown-in Cellulose Insulation
Non-toxic 

Made from recycled newspaper

Treated for fire, mold, and pest resistance

Can be installed in loose form or packed densely into cracks to prevent leakage 

Great option for attic insulation and wall insulation 
Mineral Wool
Made from spun slag wool

Long, flexible fibers help with air sealing

Great around chimneys, masonry walls, and other areas exposed to intense heat or moisture
Evergreen Home Performance: Maine's Insulation Experts 
Proper insulation and air sealing is good for homeowners and for the environment. Today, there are many high-performance, eco-friendly materials that can be used for these home upgrades. 
When you're ready to begin your journey to increased energy efficiency, lower energy bills, and greater home comfort, the local experts at Evergreen are here to help. From Portland to Rockland (and beyond!), we've helped homeowners in more than 130 Maine towns make their homes more comfortable and energy efficient through insulation, air sealing, and other home performance upgrades. 
Find the best eco-friendly insulation material for your Maine home today. Call Evergreen at (207) 805-8995 or contact us online.
Eco-friendly, high-performance insulation can increase your home's comfort and efficiency.
(207) 805-8995