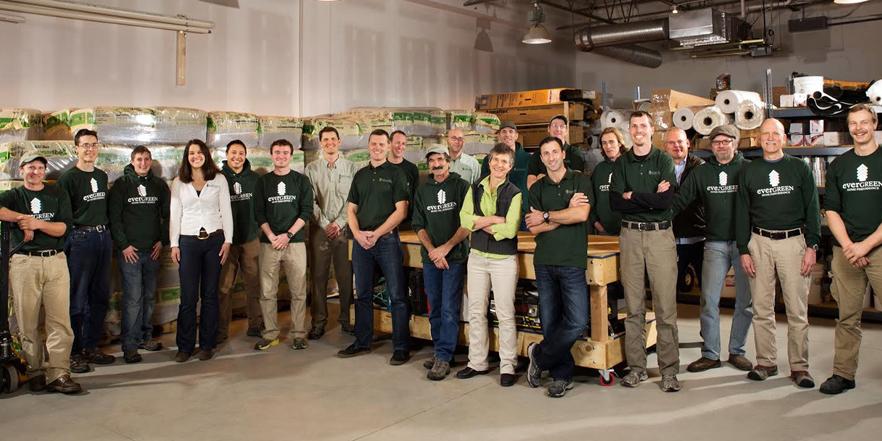 With the labor market tight and plenty of jobs to be had from Kittery to Bar Harbor, it's a great time to
consider why a career with Evergreen is such a great choice.
Start a Career with Maine's premier home performance contracting company
Evergreen's mission is to provide energy efficiency services to increase Maine homeowners' indoor comfort, lower their fossil fuel use, and improve their indoor air quality with exceptional installation services and superior customer service.
We help young families retrofit their first house to be comfortable for the new baby and to make their fuel bills manageable. We help seniors upgrade their beloved homes to be more efficient and affordable so that they can age in place. We help Mainers living in old farmhouses insulate them for the very first time so that the water in the dog's water bowl doesn't freeze overnight!
And as we help Maine people, we help the environment. Every year, the amount of home heating fuel we PREVENT from being burned in Maine homes compounds and grows. Since our inception, we estimate that we have offset the equivalent of over 1 ½ Million Gallons of home heating oil. That's almost 19,000 tons of carbon dioxide that HAS NOT gone into the atmosphere!

"The work I do in Maine people's homes is not easy. But it's worthwhile to me and here's why.
I have worked for Evergreen for a total of five years, first as a field technician and currently as a project manager. Having worked in the trades for multiple outfits over the last 25 years, I can honestly say Evergreen is the best company I have ever been involved with.
Our management team is incredibly supportive. We are very well trained to do our job safely and skillfully. They understand we have a life outside of work and are flexible with family and personal obligations. Our compensation and benefits reflects our needs for financial stability. Everyone in the office, from ownership to management, is available for questions or concerns. The "open door policy" is not just a saying at Evergreen; everyone really cares. Perhaps best of all, our hard work is acknowledged and appreciated.
My job at Evergreen is intellectually challenging and engaging. I have the pleasure of working with competent, committed people who truly act as a team. I am given opportunities for personal growth doing work that is meaningful. The work we do has a positive impact for the homeowners and the environmental health of our communities and our state. It is incredibly gratifying to know the work we do has real world benefits.
And yes, we do have some fun while we're at it."  - Rick Stevenson
Evergreen's Work Culture
At Evergreen, our people are EVERYTHING. When we hire, we look for people of integrity who value not just hard work and honesty, but friendliness and compassion. We create a positive work environment where teamwork is the name of the game, where we support one another not just in our work life but in our personal lives as well.
As a company, we seek to pay family-friendly wages, continually improve our benefits package, and solicit YOUR input so we can grow and improve.
Evergreen is HIRING!

Apply today for one of our entry-level Weatherization Technician or seasoned carpenter positions out of both our Rockland and Portland locations! 

Check out our Careers page or give us a call at (207) 594-2244
Interested in working with us? Check out our

Careers page

, send us a message or give us a call!