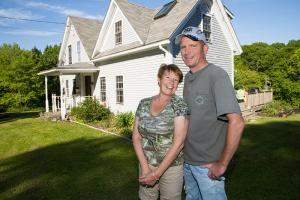 The House
Jen grew up spending summers down the road from this Cushing, Maine cottage, so she snapped it up when it went on the market in 1985. But transforming it into a cozy home took years. She moved walls, reconfigured rooms, and renovated the living space, but didn't know where to start on energy efficiency. "I was afraid that if I did something myself, I'd do the wrong thing and make it worse."
The Consult
Energy Advisor Brian Robinson identified areas of heat loss, including under-insulated sloped ceilings upstairs, leaky foundation walls, and completely uninsulated heating ducts that failed to deliver heat to the living space.
The Audit
Blower-door testing revealed that Jen's home was 3 times leakier than required by healthy ventilation standards. This uncontrolled exchange of interior and exterior air meant that Jen had to heat the house from scratch every 56 minutes, driving up fuel costs and keeping the house uncomfortably cold.
The Project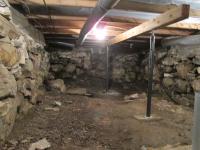 Brian identified opportunities to cut Jen's energy use by air sealing and insulating the attic and foundation walls, encapsulating the basement, and insulating the heating ducts. Evergreen's trained, certified production team installed these improvements, creating a continuous thermal barrier between the conditioned living space and the exterior.
"Working with Evergreen was such a laid-back, satisfying experience," says Jen. "Brian explained everything, and the crew made me feel safe and respected. They're such unique individuals, and they're a great team."
The Results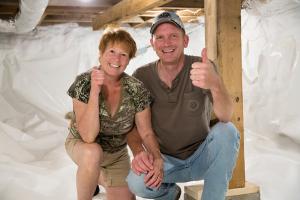 Thanks to a 30% reduction in air leakage and a 25% increase in the temperature of air delivered by the now-insulated heating ducts, Jen's house heats up more quickly and maintains its temperature more consistently – "even when the wind blows."
"I was afraid of spending the money at first," says Jen, "but it was time to do something that would pay me back – and make me more comfortable. Evergreen delivered exactly what I had hoped for."
Blog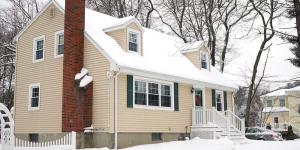 It's beginning to feel a lot like winter along Maine's central and southern coast, and that has many homeowners bracing themselves for indoor drafts, cold floors, and hard-to-heat rooms. But what if... Read more
Testimonial
Great company. Very professional and thorough. They take the time to explain everything and offer options to fit your budget. Wonderful experience from start to finish.