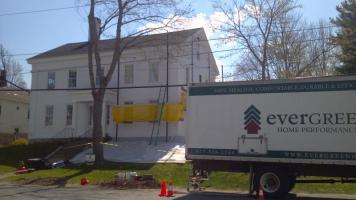 The House
This Greek Revival home in Belfast, Maine was built in 1842. Even with the thermostat set at a moderate level, it took 1500 gallons of oil, 150 gallons of propane, and "a whole lot of money" to heat the place. There were shallow puddles in the basement whenever it rained hard, which of course encouraged black mold.
The Homeowner
Mike and Lee suspected that to bring their home's performance up to manageable proportions would stir "a nest of hornets," but they couldn't ignore the rising cost of oil and off-putting basement conditions. When they took into account their wet, moldy basement, unhealthy indoor air, and Lee's respiratory problems, they knew they needed to do something.
The Audit
Evergreen's Energy Advisor used a blower door test to evaluate air leakage and an infrared survey to identify areas of heat loss where insulation was missing. Computer energy modeling helped to quantify the savings from improvements in the attic, basement, and sidewalls. However, the home's ultimate longevity depended on dealing with the moisture issues.
The Project
In the basement, Evergreen Home Performance installed a vapor barrier to keep moisture outside the building envelope.  Affixed to the foundation walls with spray foam insulation, slipped under appliances and support posts, and topped with a new concrete slab, the barrier creates a  capillary break.  The basement has been transformed from a damp, uninviting place to a clean, dry space.
In the sidewalls and attic, dense-packed cellulose reduced air leakage and heat loss and improved the home's thermal envelope.  Double-plastered walls and the discovery of knob-and-tube wiring complicated this stage of the project, but Mike and Lee were pleased that the crew "kept working around it, and through it, and finished the job."
Evergreen's persistence was just one part of the "calm, professional tone" that impressed the Silvertons. "Everyone was so respectful of our home and our neighborhood," Lee said. "There were six or seven people working here most days, and they let us know what they were doing and where they were working. It was a professional operation."
The Results
Reducing air leakage was a major goal, and the results are impressive. Thanks to strategic air sealing and insulation, the house is 45% less leaky. Keeping warm air in the house will reduce heating costs by a projected 40%, saving almost 550 gallons of oil annually. Best of all, Mike and Lee can relax and enjoy their home. "I tend to worry about everything," said Lee, "but I have less to worry about now."
They'd love to see other historic homes get the kind of upgrades they're enjoying.  "These old places are long on charm," said Mike, "but they have to be brought up to speed or they'll become uninhabitable."
Blog
Keeping your home warm during the winter is important here in the Portland area and MidCoast Maine. However, poorly insulated homes allow precious heat to escape, leading to hefty energy bills and... Read more
Testimonial
The Evergreen Team did a fabulous job and was very tuned and responsive to the particular needs we had.