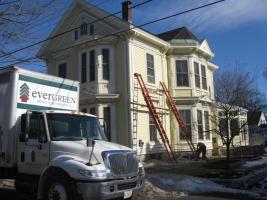 This stately 1895 Victorian has been lovingly restored by its present owners with breathtaking historical sensitivity. Just as sensitive to environmental impacts, they installed a wood pellet boiler in the effort to reduce fossil fuel use.  Having an energy audit and installing the recommended improvements was just the next step. All told, the energy upgrade helped reduce this home's air leakage by 43%, dramatically reducing energy costs and creating a more efficient, more comfortable home.
Before installing the pellet boiler, the 2600 square foot home would typically burn 1500 gallons of oil each year. Infrared thermography showed that the walls of the home were partly insulated at some time in the past, but with some settling and air leakage flowing through the walls and between the floors.  The roof and cathedral ceiling of the finished third floor were completely uninsulated. To correct these air leaks, dense pack cellulose was installed in the roof and walls from the outside by probing all the spaces with a flexible insulation hose to ensure even coverage of cellulose of the proper density to seal air leaks. 
As in many old homes, the uninsulated foundation walls were also a major source of heat loss.  Infrared diagnostics showed that cold air was pouring through the top of the foundation, creating a 10-degree temperature difference between the top (purple) and bottom (yellow). The heat loss through the foundation was addressed with spray foam from the inside, covered by fire protective paint (the gray color in the photo below).  Although the basement was not as wet as many older homes, basement drainage was installed to around the perimeter of the walls to drain to a new sump pit.  Sealing up and insulating the basement bulkhead door rounded out the energy efficiency improvements in this project.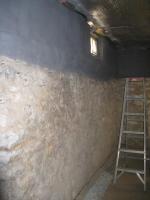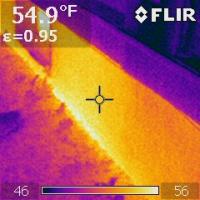 Blog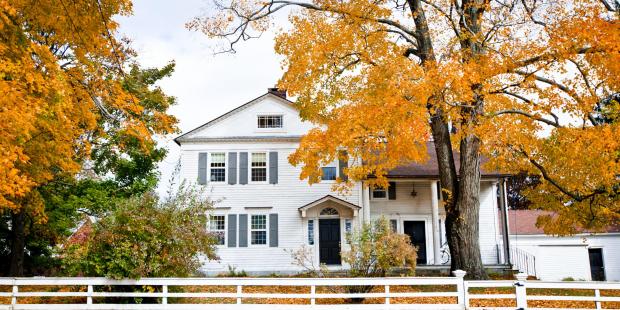 Not sure when to schedule your Maine home energy audit? We have good news for you—a home energy audit can be performed at any time of year! Evergreen Home Performance conducts energy consults and... Read more
Testimonial
I was extremely pleased with the professionalism and quality of service that I received from the Evergreen team. I met Richard to discuss options for insulation.