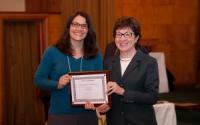 We always enjoy Efficiency Maine's annual symposium, and this year's event was no exception. We caught up with colleagues; helped honor our friend Rick Karg for his incredible contributions to the field of building science; and listened to U.S. Senator Susan Collins speak eloquently about the need for - and benefits of - urgent action on climate change. 
We were also honored with two Efficiency Maine awards for Outstanding Contributions to Energy Efficiency last week - one for leadership in the Residential Energy Efficiency Program and one for leadership in Marketing. Senator Collins presented the awards and  praised honorees for their commitment to affordable, sustainable, environmentally responsible energy efficiency improvements.
"Encouraging the adoption of energy efficiency measures remains the most effective mechanism for lowering energy costs, reducing pollution, and ultimately saving money," said Collins. "That makes energy efficiency not just good environmental policy; it's good economics."
Evergreen has been a leader in the field since Richard Burbank founded the company as a one-man operation in 2006. Today, it's a 23-person team that provides energy audits, insulation, air sealing, and basement encapsulationto improve comfort and lower energy costs for homeowners throughout Maine. Evergreen earns kudos from satisfied customers as well as the business community, and weighs in frequently on state and national energy policy.
"No one does more to communicate with homeowners about the benefits of energy efficiency," said Michael Stoddard, Executive Director of Efficiency Maine, "and no one is more effective at leveraging Efficiency Maine incentives to help homeowners."
Those incentives – up to $1500 cash back on air sealing and insulation upgrades – are particularly powerful in conjunction with record-low fuel prices. "On Wall Street, bargain hunters know that a bear market is the best time to buy," said Senator Collins. "In the same way, the current low price of oil makes this the ideal time to invest in energy efficiency."
To learn more, or to schedule a free consult with one of Evergreen's certified energy advisors, visit www.evergreenyourhome.comor call 594-2244.