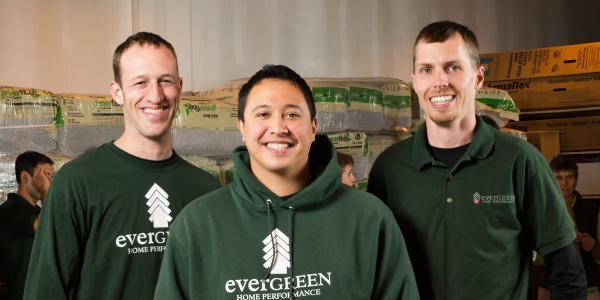 Many Mainers have used the forced downtime we experienced in 2020 to take a hard look at their career path and make a change. Perhaps for you, it means leaving a stale job behind and starting anew in a promising career. 
What are you looking for in a job? Is it a fun team of co-workers you enjoy spending time with? Is it working with your hands, providing an important service to your friends, family, and neighbors? Is it learning a challenging skill and honing your craft? Or perhaps you're just looking for a job that you don't mind doing every day where you feel respected and your hard work is valued. 
Here at Evergreen Home Performance, we take our work environment seriously. We're a locally-owned home renovation contractor that specializes in improving the energy efficiency of Maine homes. We also specialize in seeking to create a work environment where employees stay because they like what they do and who they do it with.
Our field and weatherization technicians, project managers, energy advisors, and customer service representatives are vetted for a positive attitude first, then for experience and qualifications second. Why? Because you can't train a positive attitude and a good work ethic! If you are looking for a rewarding job here in Southern Maine, Portland, Rockland, or the Midcoast area, we are hiring—and here's why we think you should join our team. 
Teamwork Makes the American Dream Work
In a recent survey of all our employees, team camaraderie was regularly referenced as a benefit of the job. Our locally-owned business is built on small teams. Whether you are deploying from the Rockland or Portland location in a company truck, or working as part of the sales team, every employee is a person, not a number.
The American Dream might mean something different to every individual, but helping our employees work in an environment where they enjoy what they do (and who they do it with) every day is a part of our American Dream, and we hope it will be yours, too. 
We're Here to Help You Grow
As we mentioned, all you need is a positive attitude to start doing good work here at Evergreen Home Performance. 
As one of our employees put it when surveyed, "I came into this field with no experience in the trades and within a year I feel like I can do 90% of the job already. And that comes from nothing but a great work environment" 
We can teach you everything you'll need to know about building science, the on-the-job trade tips of being an insulation installer, a window installer, energy auditor, and everything else we do to make the homes of Maine more efficient and comfortable. 
Work With Some Of the Best
By joining the Evergreen team, you will be tasked with rewarding work that helps the environment both globally and locally. However, you will also be joining a team of building science professionals that are set apart from the pack. Evergreen Home Performance has been a top performer statewide in Maine's home energy efficiency program for many years.
Hear From Our Employees First Hand!
We recognize we may be a little biased on how great it is to work at Evergreen. So, hear from our employees themselves by watching one of these videos below:
Ready to start a rewarding career, with nothing but your positive attitude and hard work ethic? Apply at Evergreen Home Performance today! Call (207) 594-2244 or get in touch here.