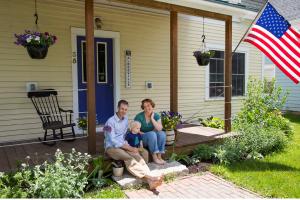 The House
When Hans & Jen bought this beautiful gambrel in the heart of Brooks, they aimed to turn the "beautiful – but drafty as all get-out" house into a cozy, dry home. They scheduled an energy audit and got right to work on efficiency upgrades, and like many homeowners, they're working in phases.
As self-described "energy nerds" who both work for ReVision Energy, Maine's leading solar installer, they started with attic air sealing and insulation, solar hot water, and grid-tied solar electric panels. They noticed an immediate impact, but "once the attic was done, the basement was really cold."
The Consult
When Hans & Jen were ready to address the basement, they called Evergreen. "So often when we go to a site visit for ReVision, we recommend that homeowners schedule an energy consult," says Jen. "It's a road map to energy efficiency."
During the consult at their own home, their Energy Advisor determined that un-improved portions of the basement foundation offered the biggest remaining opportunity to increase comfort, make the downstairs floors warmer, and save energy.
The Audit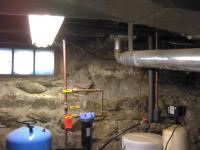 Attic insulation and air sealing had already reduced air leaks in Hans & Jen's home, but blower-door testing revealed that the house was still home was still much leakier than recommended. This uncontrolled exchange of interior and exterior air that meant they had to heat the house from scratch every hour, driving up fuel costs and keeping the house uncomfortably cold. Infrared analysis traced much of the air leakage to the un-insulated basement foundation.
Un-insulated and under-insulated sidewalls were also weak spots in the home's thermal envelope, and Evergreen recommended insulating the second-floor dormers and mansard roof sections.
The Project
Hans & Jen opted to start with the basement improvements, and Evergreen's trained, certified crew insulated the foundation, installed a weather-tight basement door, and insulated the heating system ductwork. The results were immediately noticeable, especially since Hans & Jen's young son was learning to crawl. "The floors were warmer," says Jen, "and Turner wasn't learning to crawl on ice!"
Less than two years later, Hans & Jen reached out for the next phase. "We loved working with Evergreen the first time, and had no hesitation about calling again," says Jen. They're residing two sides of their house, and Evergreen is back to insulate those walls with dense-packed cellulose.
The Results
"Our house is our home," says Jen, "and it will be for a long time. We want to be comfortable and cozy here, and we're planning ahead for high energy costs, brutal winters, or whatever the future brings."
The 13% reduction in air leakage they achieved from the basement improvements will increase with the sidewall phase, but even that is just the beginning for this family.
"We think about energy in relation to Turner. There's so much to be said for setting a positive example."
Blog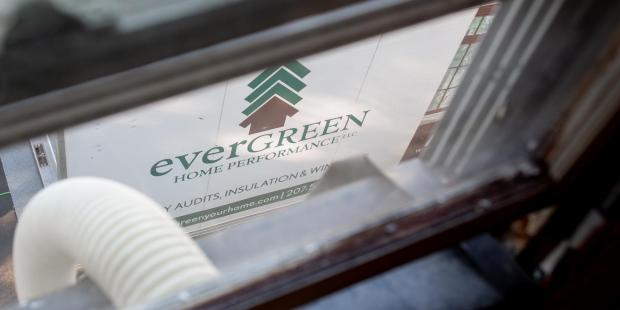 Making energy efficiency upgrades to your home can provide many benefits—like more comfort and lower heating and cooling bills—but the initial cost of services can be difficult for many Midcoast... Read more
Testimonial
We had Evergreen come out to our tiny old (100+ year old) house to see what they would recommend for decreasing our carbon footprint, saving money, and increasing our comfort in the cold season.... Read More