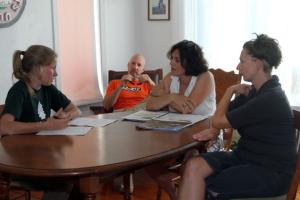 The House
This 1830s farmhouse in Rockport, Maine came with period charm and an overwhelming fuel bill: 750 gallons of oil, plus 6 cords of wood, plus all the electricity it took to power an inefficient old water heater. Even worse, all that didn't even keep the house warm.
The Homeowner
Michelle and Eric knew they needed to do something to make their home more comfortable and affordable. They could see themselves growing old in this rambling blue house, and they were serious about doing right by it.  Their young son was serious too – about global climate change, energy security, and home energy efficiency – and Michelle and Eric wanted to show him, and the broader community, how homeowners can take charge of their energy use.
The Consult
Michelle and Eric's path to Evergreen actually started with a call to our solar partner, ReVision Energy. During a free solar site evaluation, ReVision mentioned that no matter how the family generates energy, it makes sense to use it efficiently, and suggested that they schedule a free consult with Evergreen.
The Audit
Evergreen's Energy Advisor used a blower door test to evaluate air leakage and an infrared survey to identify areas of heat loss, and identified opportunities to save 35% on annual heating costs. As in most homes, the basement and attic presented the most serious home performance challenges and opportunities.
The Project
For Michelle and Eric, a multifaceted approach to energy efficiency was the answer. "The more we talked, the more it made sense to do it all," says Michelle. Evergreen Home Performance insulated the basement and attics to cut energy waste and improve comfort; ReVision Energy installed photovoltaic panels to generate electricity; and All Heat installed a high efficiency heating system. PACE and PowerSaver loans from Efficiency Maine financed the whole project and allowed Michelle and Eric to spread their investment out over the period of time that they'll reap the benefits.
The Results
Evergreen's "cap & boots" project stabilized attic and basement temperatures and reduced air leaks to keep the house warmer in the winter and cooler in the summer. Energy waste has been dramatically reduced, a new propane-fired condensing boiler heats the house much more efficiently, and solar panels now generate more than 5000 kilowatts every year. "We did this so we can afford to live here forever," says Michelle. "This is our version of retirement planning."
Blog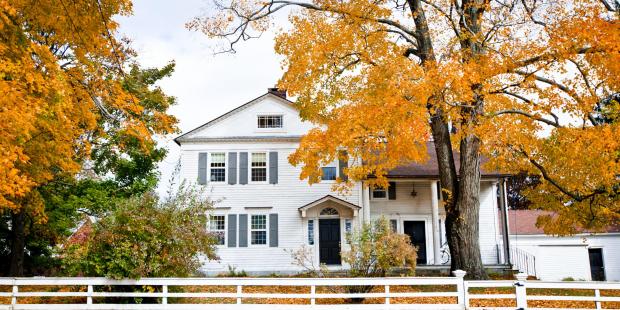 Not sure when to schedule your Maine home energy audit? We have good news for you—a home energy audit can be performed at any time of year! Evergreen Home Performance conducts energy consults and... Read more
Testimonial
Evergreen is a terrific company to deal with. Polite and efficient crews, meeting deadlines and major reduction in our heat bills.