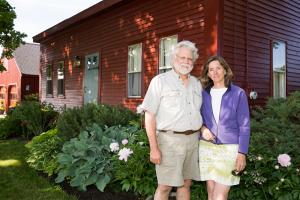 The House
Tom & Jennifer never meant to live here. They bought the 1850s cape as a landing pad while they figured out where they really wanted to be. They didn't paint the walls, and they didn't worry about the drafts that kept the house cold and uncomfortable no matter how much oil and wood they burned. But after nearly a decade, "we came to the realization that the best thing for us was to try to make this house work."
The Consult
When Tom, a realtor, saw Evergreen working at a client's home, he knew it was time to act. "I feel most comfortable working with companies I've seen in action." Their Energy Advisor identified areas of heat loss, including uninsulated foundation wall, air leaks in the under-insulated attic, and poorly performing wall insulation.
The Audit
Blower-door testing revealed that Tom & Jennifer's home was much leakier than required by healthy ventilation standards. This uncontrolled exchange of interior and exterior air meant that they had to heat the house from scratch every 47 minutes, driving up fuel costs and keeping the house uncomfortably cold. "No wonder we're so cold in our house!"
The Project

Evergreen identified opportunities to cut Tom & Jennifer's energy use by air sealing and insulating the attic, basement, and walls. Evergreen's trained, certified production team installed these improvements, "getting into every nook and corner," says Tom.
"I saw parts of my house I'd never seen before. It was pretty cool, and the crew was nice, polite, and neat."
The Results
Thanks to a 31% reduction in air leakage, Tom reports that the house "isn't the wind tunnel it used to be." Their oil bill has gone way down, the floors are warmers, and they're insulated from road noise as well as wind. "I haven't figured out how long it will take for the improvements to pay for themselves in fuel savings because I don't really care," says Tom. "What I care about is the fact that the house is so much more comfortable and enjoyable to live in. We could live here forever."
Blog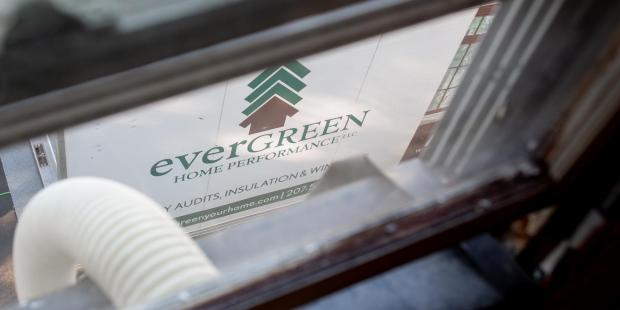 Making energy efficiency upgrades to your home can provide many benefits—like more comfort and lower heating and cooling bills—but the initial cost of services can be difficult for many Midcoast... Read more
Testimonial
We had Evergreen redo the insulation in our roof. The team handling our project did a great job. They left the house spotless.