When it comes to insulation, we know what we're talking about. We know why cellulose outperforms fiberglass, and why the spray foam we recommend for your basement doesn't make sense in your attic. We understand the importance of air sealing first to ensure that insulation performs its best.
But why does insulation matter anyway? Put simply, insulation is the key to creating a comfortable home and preventing energy waste. This graphic explains what would happen in an uninsulated home: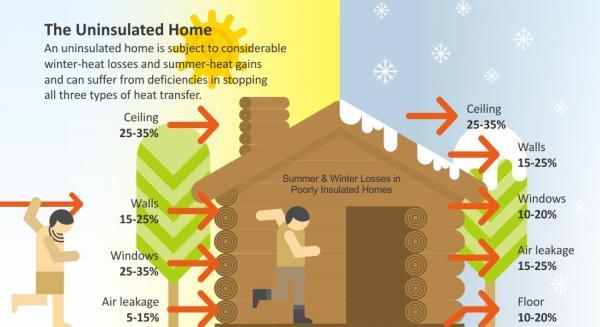 Very few of the homes we see are completely uninsulated like the one above, but most have significant room for improvement. Our mission is to engineer the most cost-effective home performance plan possible by focusing on the low-hanging fruit - the improvements that will make a big difference in your comfort and energy efficiency, and pay for themselves in a decade or less.
How do we do it? Find out.
(By the way, this image is part of a larger infographic. See the whole thing here.)