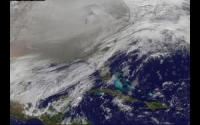 You know about the polar vortex, right? The reason we all think 20 degrees is flip-flop weather?
Here it is, as captured by captured by NOAA's GOES-East satellite Monday morning. If you look closely, you can spot southern Florida, but the rest of the country is covered with frigid temperatures and dangerous wind chills.
Adding insult to injury (and making Maine's subzero temperatures even more dangerous), heating fuel costs have spiked. Oil costs 12-cents more per gallon than it did at this time last year, and propane prices are up 52-cents-per-gallon since the beginning of the heating season. Yikes!
The ramifications are varied - and serious. Pipes are freezing, bills are piling up, ice dams are causing leaks, fuel delivery workers are driving overtime, and people are suffering.
Luckily, Evergreen Home Performance offers solutions that are just as comprehensive - but a lot more positive. Schedule a free energy consult to find out how you can tell that polar vortex to spin off.