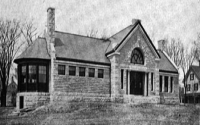 Retrofitting the Rockland Public Library: Up in the Attics
This is the Rockland Public Library in 1904:
It still looks much the same from Union Street, but the other side boasts a new wing with a new main entrance.  We'll do some work in the new section, but the bulk of the energy efficiency upgrades will come in the ceilings of the original wing. The dotted lines in this diagram show the long arches that dominate the old wing.  Inside, they look like this:
In the attics, the arch is nested inside roofline, creating an odd series of spaces criss-crossed with heating ducts.  Heating ducts have long been located in attics - the installation and maintence is so easy there! - but it doesn't make much sense.  Even when the ducts are insulated (as most of the Library's are), they're running through unconditioned space, exposed to summer heat and winter cold.  Moving the heat ducts isn't an option, but moving the thermal barrier is, and that's exactly what we're doing.
We webbed the rafters and blew dense-packed cellulose into the cavities, then sealed the joints with spray-foam. We're leaving the ratty fiberglass insulation that covers the arch alone because it's not in our way, but it doesn't need to do anything anymore.  The new thermal barrier is along the roof slopes, where it will protect the attic - and the Library's heating dollars - from the elements.
Next up: Retrofitting the Rockland Public Library's Basement