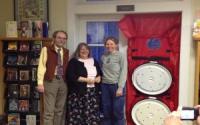 We've been keeping the news of our final test-out at the Rockland Public Library under wraps, but now that The Bangor Daily News, The Free Press, and The Coastal Journal have broken the story, we're ready to dish.
Rockland City Councillor Larry Pritchett and Library Director Amy Levine joined Production Manager Svea Tullberg (all pictured, left) for the final energy analysis.  Blower-door analysis demonstrated that the insulation and air sealing project, which took six weeks and more than 1000 man-hours, has reduced the Library's draftiness by 50% - two-and-a-half times the targeted reduction.  Reducing air leakage means the library will retain warm air longer, reducing heating costs and saving taxpayers as much as $11,000/ year.
"This was a very complex project, and very important as well.  I'm so pleased with what our project team was able to accomplish," said Evergreen Home Performance President Richard Riegel Burbank.
"The Library used more energy than any other building in city government," said Larry Pritchett, who chairs the city's Energy Committee and spoke with members of the press before the test-out last week (right).  "It's realistic to anticipate that the new insulation and air sealing, more efficient lighting, and retooled HVAC system could cut that $58,000 per year energy bill in half."
We're proud, as we always are, to eliminate unnecessary energy waste, lower fuel expenses, and bring a new level of comfort to a grand old building.  But at the end of the day, the feedback that really makes our hearts go pitter-patter is this:
I want to thank you and the entire Evergreen crew for the excellent job you just completed for the Rockland Public Library.... Svea Tullberg is a consummate professional; she was wondeful to work with, and I know that she did an exceptional and very thorough job.  She and her crew were most pleasant to work with; I could not have asked for a better team!
Sincerely,
Amy Levine, Library Director