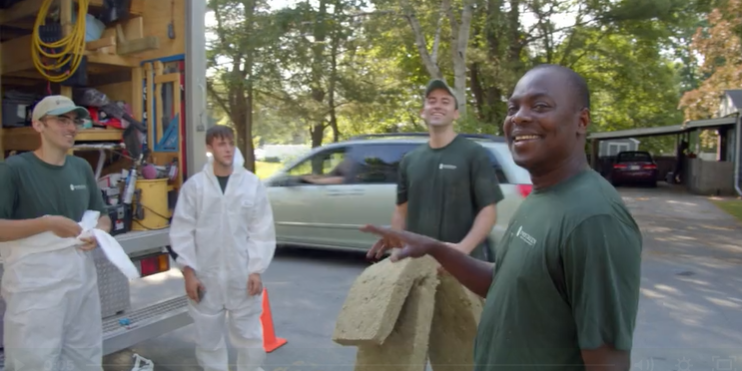 For many folks, the forced break of a global pandemic sparked change. A change in location, a change in scenery, and even a change in careers. 
Or, perhaps you have moved from another part of the world seeking a safe haven or a new start.
If you are one of the many who are new to the beautiful coast and wilderness of Maine, and are looking for a rewarding job, you've landed in the right place! Whether you have moved here from across the country or across the world, we would love to talk. 
At Evergreen Home Performance, our teams work in small teams based on camaraderie, complementing technical skill sets, and a desire to succeed. All you'll need to become a part of our growing team is a positive attitude and a knack for working hard until the job is done!
Consider a New Career Path
"We're encouraged to do the best work we can do , we're paid well, we have opportunities to develop, and customers are always happy with our work."
Perhaps your move to Maine has also brought a desire to head in a new direction in your work life.  We can give you the tools you need to succeed doing meaningful work. 
At Evergreen, we specialize in superior energy efficiency remodeling services based in the emerging fields of building science and home performance. We make the homes of Maine more comfortable, more efficient, and more environmentally friendly. 
Our careers in the field include technicians, project managers, and energy advisors (the folks who diagnose the problems, engineers the solutions, and sell the jobs). We provide on-the-job training to equip you with the skills you need to excel.
Improve Your Skills By Learning From the Best!
No one wants to join a team that performs mediocre work, using outdated training techniques or tools. We make it a point to stay on the cutting edge of home improvement and building science, and have been a top performer for Maine's state-wide home efficiency program for many years..
Hear From Our Employees First Hand!
We recognize we may be a little biased on how great it is to work at Evergreen. So, hear from our employees themselves by checking out this video:
Ready to start a rewarding career in your new home state? Apply at Evergreen Home Performance today! Call (207) 594-2244 or browse our available jobs here.