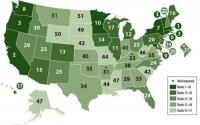 Maine held steady as the nation's 16th most energy-efficient state, according to ACEEE's 2014 State Energy Scorecard.
Once a top-ten performer in the annual assessment of the state policies and programs that improve energy efficiency in homes, businesses, industry, and transportation, Maine dropped to 25th in 2012 when it slashed funding for efficiency programs. The state bounced back last year, when the June 2013 passage of the Omnibus Energy Bill returned full funding to Efficiency Maine.
Among other things, adequate funding allows Efficiency Maine to offer up to $1500 in rebates to homeowners who work with approved energy advisors and contractors like Evergreen Home Performance to complete certain energy efficiency measures.
"Mainers have always valued energy efficiency," said Evergreen's founder and president, Richard Burbank, "and Efficiency Maine's incentives and loan programs make it easier for them to invest in insulation and air sealing projects."
ACEEE also reports that:
Massachusetts held on to the top spot for the fourth year in a row, earning 42 out of a possible 50 points.  California came in second, and Rhode Island, Oregon, and Vermont tied for third.
Arkansas, the District of Columbia, Kentucky, and Wisconsin earned recognition as the most improved states, thanks to strides in many policy areas.
Policies setting long-term energy savings targets faced pushback this year and were actually rolled back in two states, Indiana and Ohio. Twenty-four states continue to adequately fund Energy Efficiency Resource Standards.
Sixteen states rose in the rankings this year, while twenty-three states fell.
You can download the full ACEEE report here, then contact Evergreen Home Performance to learn how Efficiency Maine's rebates and loan programs can help you improve your home's energy efficiency.