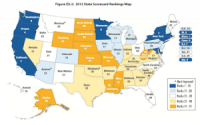 Remember that queasy feeling that came along with school report cards?  Well, brace yourself, Maine: ACEEE's 2012 State Energy Scorecard is out, and the results will give you a bellyache.
Once a top-ten performer in the annual assessment of the state policies and programs that improve energy efficiency in homes, businesses, industry, and transportation, Maine has dropped to 25th place, and earned this scolding: "Maine's apparent weakening of support for energy efficiency is of particular concern because of its laudable history of increasing efficiency budgets."
ACEEE identified several factors behind the fall, but the biggest seems to be the $30 million dollar gap between the funding Efficiency Maine projects it needs to meet the state's Energy Efficiency Resource Standard (a set of 10- and 20-year targets that includes weatherizing all of Maine homes by 2030) and the funding allocated in the FY2013 budget. 
Meeting those targets would do more than improve Maine's ranking.  ACEEE calls energy efficiency a critical state resource because, "Energy efficiency improvements help businesses, governments, and consumers meet their needs by using less energy, saving them money, driving investment across all sectors of the economy, creating much- needed jobs, and reducing environmental impacts."  Of course, states need leadership, sustainable funding, and institutional support to make a viable, long-term commitment to energy efficiency.
According to ACEEE's Scorecard, plenty of states are doing just that.  
Massachusetts held on to the top spot for the second year in a row, earning 43.5 out of a possible 50 points.  California, New York, Oregon, and Vermont rounded out the top five spots, and ACEEE calls the group "truly leading states."
Twenty-four states have adopted and adequately funded an Energy Efficiency Resource Standard, which sets long-term energy savings targets and drives investments in utility sector energy efficiency programs.
Of course, there's room for improvement in even the more conscientious states.  Here are ACEEE's top recommendations for all states:
Adopt and fund an energy efficiency resource standard.
Update building energy codes and get utilities involved in energy code compliance.
Reduce tailpipe emissions and set targets to reduce vehicle miles traveled.
Treat combined heat and power as an energy efficiency resource equivalent to other efficiency resources.
Fund state government led efficiency incentive programs; set policies that benchmark building energy use; and invest in energy efficiency research and development and demonstration projects.
Even at 179 pages, the report is worth a read.  You can download it here.