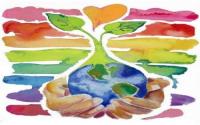 It's been 43 years since the first Earth Day. On that day – April 22, 1970 – 20 million Americans took to streets, parks, and auditoriums across the country to demonstrate for a healthy, sustainable environment. It was the birth of a movement that continues to challenge the status quo and push us to take responsibility for our impact on the environment.
Evergreen Home Performance is proud to be part of that movement. Since 2006, we've helped hundreds of Maine homeowners reduce their dependence on fossil fuels, cutting their energy bills and improving their home comfort at the same time. Homes account for 22% of U.S. energy consumption, so the cumulative effects of cutting residential energy use are staggering.
More than 1 billion people in 192 countries are doing something to mark Earth Day this year, according to estimates from the Earth Day Network. If you're ready to join the movement and take charge of your energy use, contact us to schedule a FREE one-hour consult.