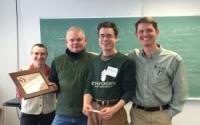 Evergreen is proud to be a place where people stick around. We're lucky to have dedicated, kind, interesting people on our team, and we're smart enough to treat them right. Last week we honored two incredible Field Technicians for five years of service in our company - and in your homes.
Steve Athearn is Evergreen's most veteran Field Technician, but that's just one reason we call him Amazing Steve. He performed juggling and comedy shows on cruise ships and in other venues for years, and has been known to entertain the whole Evergreen team at holiday parties. It's not all fun and games, though. Steve spends his free time studying physics and geology and attends international conferences in his spare time. He's Amazing.
Eddie Elwell is one of Evergreen's veteran Field Technicians, and one of most positive people you'll ever meet. He's known for his amazing work ethic and his willingness to go into all the small places in Maine homes with a smile. Seriously. He'll wriggle out of a tiny, damp crawlspace and SMILE at you. Eddie loves fishing and camping with his family - which includes his faithful dog, Chance - and we love him.