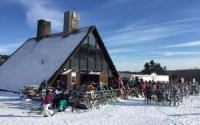 In a surprising move, Evergreen Home Performance announced today that it will launch a line of eco-green, high-performance outerwear. "We've mastered the art of keeping homes warm and dry," says Marketing Manager Kathleen Meil, "and now we'll deliver that high level of comfort to outdoor enthusiasts." 
Evergreen's new mountaineering outerwear employs the high-performance qualities and high-fashion style of weatherization materials the home energy efficiency and insulation company has installed for years. The result is airtight, vapor-open, and insulated to a solid R-14 with a proprietary quilting method. As an homage to the line's home performance roots, products color palettes include Intello White and Mento Black, each with the neon green and royal blue accents the vapor barriers are known for.
Energy Advisor Cree Krull, who designs insulation improvements to help homeowners achieve their comfort goals inside, applauded Evergreen's willingness to take comfort outside. "When it comes to outdoor gear, we've had duck down for centuries, polyester fill for decades, Gore-tex and Thinsulate since the '80s, yet none of those materials offer the performance we install in Maine homes every day. It's time for the next frontier in outdoor clothing, and Evergreen has the technical savvy to bust open a stagnant market."
Field testing in northern Maine has produced excellent feedback. "Dude, that R-14 anorak was warmer than my house!" quipped Evergreen Production Manager David Holmes, himself a native of Aroostook County.
"At Evergreen, we've never been content to rest on our laurels," says Executive Vice President Elise Brown. "We've never been afraid to set a higher bar for ourselves and our competitors." Brown declined to go into specifics about future product lines, but when pressed, did mention "huge opportunities in the footwear and luggage markets just waiting for our encapsulation know-how."