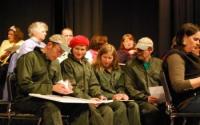 In the world of wine, a jeroboam is a double magnum, equal to four regular bottles.  The word had a different meaning at the Rockland Public Library Spelling Bee Tuesday night: victory.
Cree Hale Krull, Elise Brown, Svea Tullberg, and Ham Niles represented Evergreen, calling themselves the Drafty Bulkheads.  The team considered calling themselves the Home Performers, the Net-Zeros, or even Free Beer ("everyone cheers for Free Beer," explained Niles), but settled on Drafty Bulkheads because "it sounds vaguely self-deprecating," said Hale Krull.
Whatever you call them, they won the Bee when their only remaining competition – the Lincoln Academy Hippomonstrosequipedeliaphobics – misspelled jeroboam in round 32.  The Drafty Bulkheads missed jeroboam too, but that was beside the point.  Bee rules allow teams to buy their way back in twice, and the Drafty Bulkheads still had an ace up their sleeves.
"We actually considered the correct spelling," said Brown, "but we just weren't sure.  Luckily, it ended up not mattering." 
It wasn't the only time a misspelling didn't matter.  Judges called a do-over in the first round, when only one team - not the Drafty Bulkheads - spelled piccalilli correctly.  "I was instructed not to take you down that fast," said Bee Mistress Angela Pomerleau, "so, my bad."
All eleven teams sailed through the next few rounds, with words like marina and haddock making their jobs fairly easy.  "It's like asking a bunch of New Yorkers to spell subway," quipped Master of Ceremonies Mary Bumiller.  "I'm really proud of you."
By the time the Drafty Bulkheads - Elise Brown, Cree Hale Krull, Ham Niles, and Svea Tullberg – accepted their trophies, the Spelling Bee had raised almost $1000 for the Rockland Public Library.  "We're so proud to support the Library this way," said Brown.  "Evergreen has always tried to be a good neighbor, and after the big project we did at the Rockland Public Library, it has a special place in our hearts."
The trophies don't hurt either.