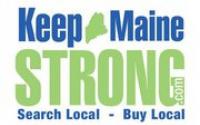 Buy local is a powerful – and familiar – rallying cry.  We intuitively understand that local businesses employ local people, champion local causes, and create local character, and we take pride in supporting local farmers, artists, and entrepreneurs.  Turning to local contractors to improve your home's performance is just as powerful.  The principles of this comprehensive, whole-house approach to improving your home's comfort and energy efficiency line up perfectly with the Buy Local philosophy:
Help the environment: Shopping downtown reduces the sprawl associated with big box strip malls and the carbon cost of shipping goods from afar, but improving your home's energy efficiency is the ultimate green move.  One-fifth of greenhouse gas emissions come from residential structures, making our nation's houses bigger energy hogs than our cars.  The average home performance upgrade reduces energy use by 25% - the equivalent of doubling your car's gas mileage – and every house makes a difference.
Encourage entrepreneurship: Making American homes more energy efficient is an essential part of building a stronger, more stable economy.  When homeowners invest in their own energy upgrade projects, they save money by cutting energy costs and help retrofit workers earn money.  The only stumbling block in this win-win scenario described by the American Recovery and Reinvestment Act is a lack of green entrepreneurs.  Luckily, improving your home's comfort and efficiency directly encourages this new breed of business.
Foster local job creation: Retrofitting and weatherizing Maine's older homes will be an ongoing process, requiring a new "green-collar" workforce.   Trained home performance contractors are in demand, and they're uniquely qualified for sustainable jobs that cannot be exported.
Keep local dollars in the local economy: Half of the oil we use each day is imported – which is as far from local as it gets.  Energy efficient homes reduce our dependence on foreign oil and keep dollars that might have gone overseas right here in Maine.
Celebrate what makes our community unique: Old houses are the norm in Maine.  From ship captain's mansions to hundred-year-old farmhouses, these buildings tell the unique story of our communities.  Home Performance retrofitting preserves the historic character of old homes while meeting modern expectations for comfort and energy efficiency – making the buildings and the community stronger.
Nurture our community: Our homes are the centerpiece of our community.  When homeowners, green entrepreneurs, and green-collar construction workers collaborate to make them more comfortable, more energy efficient, and more durable, we're demonstrating our confidence in the community we share.