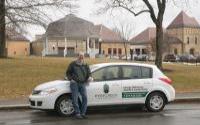 Here's a confession: Sometimes even BPI-certified energy advisors have complicated, efficiency-challenged houses. Take Cree Hale Krull, who leads Evergreen's charge in Maine's southern Midcoast region. He's the proud new owner of an older home that's been full of efficiency surprises.
When the water heater up and quit last month, Cree decided to replace it with a high efficiency heat pump water heater. These appliances essentially work like refrigerators in reverse – they pull heat from the surrounding air and dump it, at a higher temperature, into a tank to heat water. Cree and local heating contractor Steve Winchenbach figure it will cut the cost of heating water in half, with the added benefit of dehumidifying the basement.
Since Cree knows a thing or two about financing energy efficiency projects, he looked into Efficiency Maine's loan programs. He chose an unsecured PowerSaver loan, which offers up to $7500 for up to 10 years and is not tied to the property. 
While he was at it, Cree decided to tackle an area where a day's work would make a big difference: his attic hatch (left). Whether you access your attic through a panel-style hatch, pull-down stairs, or a real door at the bottom of a real staircase, these openings are often energy holes. They connect living space and unconditioned attic space, and all too often they offer a pathway for heat to leak from the house to the attic all winter, and to radiate from the attic to the house all summer.
At Cree's house, the solution included air sealing the 4'x8' opening in the second floor ceiling with a combination of spray-foam and caulk (below left).Not content to seal just what he could see, Cree pulled up the attic floorboards around the opening… and uncovered an unsealed top plate of an interior wall (below center). The top plate is the stud, laid lengthwise, at the top of the walls. When "open," or unsealed, it creates another pathway for air to worm its way through. Cree put a stop to that with another round of spray-foam and caulk (below right).
With the attic hatch opening air sealed, the next step was creating an insulated plug for the 4' x 8' opening. (Though there's a door at the bottom of the stairs, it's an original interior door that provides very little in the way of insulating value. For energy efficiency purposes, the stairway is part of the second floor, and the barrier between conditioned and unconditioned space is the attic flat – so that's where the insulated plug belongs.) Cree's improvised door – constructed of scavenged blue board, 1x3 strapping, and weather-stripping – provides what he calls "a reasonable radiant/thermal barrier to heat transfer as well as the all-important air barrier – and even then it wasn't perfect."
All told, it was a 9-hour Sunday for Cree. "Most people don't realize how much work it takes to do this right," says Cree. At least the results were immediate: one of his sons commented (without prompting) that the second floor was significantly warmer, and the whole family noticed that the furnace cycled on far fewer times. Being a building science geek at heart, Cree quantified the improvements with a blower door test and found that air sealing the attic hatch reduced his home's air leakage by 13%.
Not bad for a Sunday's work.