The House
When Nancy fell in love with this 24-year-young gambrel-style house, she threw herself into personalizing it with cosmetic upgrades that made it hers. But worrying about heating bills and uneven temperatures kept her from fully enjoying her home. "When my pipes froze, I knew I needed to do something," says Nancy. "I'd seen the Evergreen signs around, so I knew exactly who to call."
The Consult
Nancy was spending almost $4000 on oil every year, and infrared analysis helped Energy Advisor Brian Robinson see why: extensive air leaks along the attic roof slopes allowed air to bypass the existing insulation, rendering it almost useless.
The Audit
Blower-door testing revealed that Nancy's house was incredibly leaky. This uncontrolled exchange of air meant that she had to heat the house from scratch every forty-two minutes, driving up fuel costs and keeping the house uncomfortably cold. "The heat was screaming out!" Nancy says. "I was heating the whole neighborhood…."
The Project
Gambrel, barn-style roofs are notoriously tricky, and Nancy's was no exception. "We can get into the lower slopes of a gambrel roof most of the time," says Brian, "but the upper slopes are really only accessible when you're replacing a roof." Since Nancy timed her energy consult to coincide with a roofing project, Evergreen was able to air seal and insulate the whole attic with dense packed cellulose. The process was a breeze, thanks to Evergreen's trained, certified crew. "They're all marvelous!" Nancy says, "So nice, so easy-going and pleasant… And really neat – that makes a difference."
The Results
Nancy noticed the impact of Evergreen's improvements right away. Not only was her house hot – "I've had to learn how much less energy it takes to heat my house," she explains – but there seemed to be less traffic outside. "I thought there were just fewer cars going by, but then I realized: the cellulose actually makes my house quieter."
Blower door testing confirmed an impressive 48% reduction in air leakage. "My friends are so bored of me saying, 'what a difference!' but it's true," says Nancy. "The difference in how my house feels is profound, and it's worth every penny."
Blog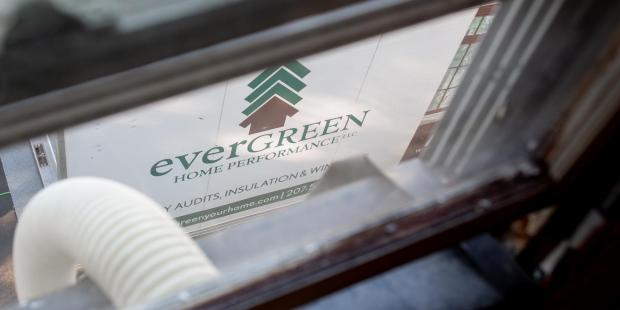 Making energy efficiency upgrades to your home can provide many benefits—like more comfort and lower heating and cooling bills—but the initial cost of services can be difficult for many Midcoast... Read more
Testimonial
Evergreen did everything they said they would and more. I actually don't mind going into the basement now since they sealed it.