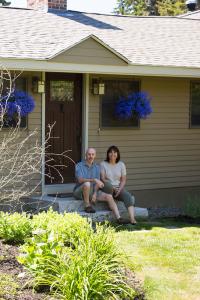 The House
Marianne & Steve's Cape Elizabeth home was "a bit of a mishmash" – a 1939 log cabin with additions completed in 1998 and 2011. The result was beautiful but drafty – and expensive to heat. "Our bedroom door would rattle when the wind blew," reports Steve, and the upstairs office was "either stifling hot in the summer or freezing in the winter."
There was no crisis, but they agreed that it was time to take action. "We called Evergreen because we wanted to be more comfortable and to use less oil."
The Consult
Evergreen identified opportunities to make the multiple additions on Marianne & Steve's work better together, and to make the whole house more livable year-round. "We asked questions, our Energy Advisor asked questions," said Steve. "He saw some things we expected and some things that surprised us, and he was right on the money."
The Audit
Blower-door testing revealed that Marianne & Steve's home was twice as leaky as required by natural ventilation standards. This uncontrolled exchange of interior and exterior air meant that they had to heat the house from scratch every 80 minutes, driving up fuel costs and keeping the house uncomfortably cold. Infrared analysis traced much of the air leakage to the un-insulated basement foundation and the attics, especially in the side attic that wraps around the upstairs office.
The Project
Evergreen engineered a complete solution for Marianne & Steve's energy efficiency challenges and recommended air sealing and insulating the attics, insulating the basement foundation, and installing a custom-built insulated bulkhead door. Evergreen's trained, certified production team made the improvements.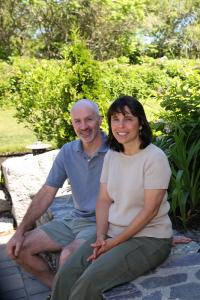 "The project was a piece of cake," says Steve. "We've lived through two home renovations in two different places, and Evergreen's team was the neatest, most professional crew we've ever worked with. We were very impressed."
The Results
Marianne & Steve's Evergreen project reduced their home's air leakage by 36% and transformed the house. "We set the temperature last winter and didn't think about it again," said Steve. "And we spent less than we ever had before," added Marianne.
Wintertime comfort isn't the only gain, though: the house is cooler in the summer and temperatures are more consistent year-round. "If you take the long view on heating, cooling, and overall comfort over time, energy efficiency is a no brainer."
Blog
Keeping your home warm during the winter is important here in the Portland area and MidCoast Maine. However, poorly insulated homes allow precious heat to escape, leading to hefty energy bills and... Read more
Testimonial
We initially contacted Evergreen through Efficiency Maine for an energy audit, which was conducted promptly and professionally by Justin McEdward, one of their Energy Advisors who is BPI-certified... Read More