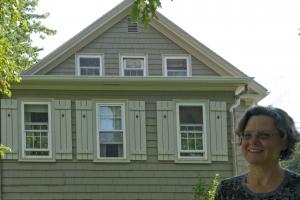 The House
This South Portland, Maine home was charming but chilly – enough so that guests often kept their coats on!
The Homeowner
Lee had been thinking about energy efficiency for years, but the process seemed overwhelming.  A free one-hour consult with Evergreen was the perfect opportunity to explore the possibilities.
The Consult
As Lee showed Evergreen's President, Richard Burbank, around the house she's lived in for twelve years, she realized how much energy efficiency has shaped the way she uses her home.  "The consult revealed issues I hadn't anticipated… I thought Evergreen would come in and tell me things, but they asked questions other people wouldn't have known to ask, and they really listened to my experiences.  I got to express my preconceptions, and my misconceptions, and to make sense of my home."
The Audit
We used a blower door test to evaluate air leakage and an infrared survey to identify areas of heat loss, then outlined and prioritized a range of potential improvements with a variety of pricing options.  "Evergreen encouraged me to make a checklist of what I want to do this year, next year, and the next year… Now I have a plan that I didn't have the information to make on my own."
The Project
Lee invested in air sealing and insulating her attic and sealing the chimney chase in both the attic and basement, and plans to tackle her basement next year. "The consult helped me confirm how serious I am about energy efficiency," said Lee. "In committing to the Evergreen process, I really committed to my house."
Lee was pleased by how committed Evergreen's crew was to respecting her house. "They went out of their way to be neat and clean, and were very respectful and fast. And having Evergreen point out and make the Efficiency Maine rebate happen was huge – it went a long way toward paying myself back for the work already done, which means that next year's job is all the closer."
The Results
Targeted attic air sealing reduced the overall air leakage in the house by 11% and keeps the temperatures more even throughout the house. Lee loves her "nicely temperate" home, but reports that the first thing she noticed "is that the toilet seat is not freezing cold in the middle of the night!"
Blog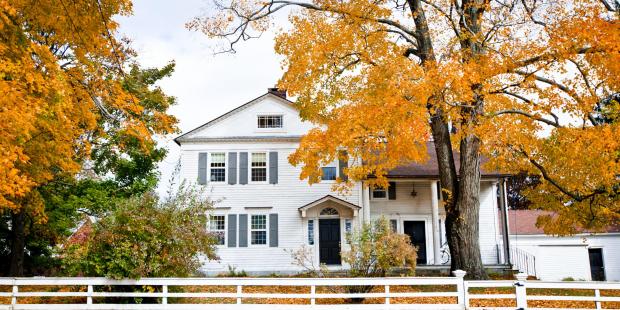 Not sure when to schedule your Maine home energy audit? We have good news for you—a home energy audit can be performed at any time of year! Evergreen Home Performance conducts energy consults and... Read more
Testimonial
They were highly recommended. I found them to be very knowledgeable and so helpful, with practical ideas.