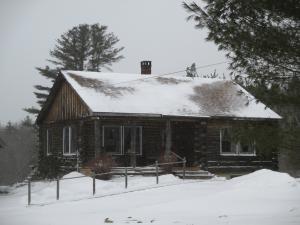 The House
Vera and her husband built this log cabin in Cushing, Maine 30 years ago and had always heated with wood they cut on their own land. But when her husband passed away, Vera couldn't keep up with the chopping and hauling. She began relying on the oil furnace – and noticing all the drafts.  "It's been such a cold home, and I knew I couldn't keep living there if I couldn't get it warm," says Vera.
The Consult
Vera's daughter Cindi made the first call to Evergreen. She knew that her mother was reluctant to invite an unknown contractor into her home, but had met Energy Advisor Brian Robinson and knew that it was a good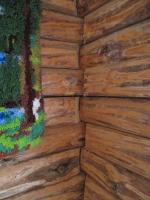 fit. During the initial consult, Brian identified air leaks and insulation gaps throughout the house – and won Vera's trust. "Brian is such a doll," she says.
The Audit
Blower-door testing revealed that air leaks between logs (right), around chimney and plumbing chases, and in the attic were having a major impact on Vera's comfort and energy use. Though healthy ventilation standards require a complete exchange of air once every three hours, Vera was replacing – and heating – a full volume of air every 24 minutes.
The Project
Brian identified opportunities to reduce heat loss and improve comfort by air sealing and insulating the attic, sealing cracks between the logs, eliminating air leakage around the basement stairs, and installing custom-built window inserts throughout the house. Evergreen's production team installed the improvements, impressing Vera by arriving on time every day and working hard – "too hard, in fact," she says. "Everyone was just so nice, so neat, and so careful. Evergreen is the best company I've ever seen."
The Results
Evergreen's efforts reduced air leakage in Vera's home by 22% – and reduced her worries about aging in place, too. "I'm so grateful for these improvements," says Vera. "A lot of older folks end up moving to nursing homes, but now that my house is so cozy, I'll be able to stay here as long as I can breathe."
Blog
Keeping your home warm during the winter is important here in the Portland area and MidCoast Maine. However, poorly insulated homes allow precious heat to escape, leading to hefty energy bills and... Read more
Testimonial
The folks at Evergreen did a great job fixing a rather major insulation problem in my house, which they helped identify with a great audit.