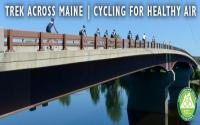 For some, Father's Day means a new tie and a barbeque on the back deck. For Nate Spectre, his son Peter, and more than 2000 other cyclists, it means the Trek Across Maine.
The annual 3-day, 180-mile ride winds from the mountains of Sunday River to the sea in Belfast to benefit the American Lung Association of the Northeast. Each trekker is required to raise at least $500, and their efforts added up to $1.8 million last year, making the Trek the ALA's largest fundraising event nationwide.
"I ride to support the Maine Chapter of the Lung Association," said Spectre, who is riding for the fourth time this year.  "I also ride because I love cycling and being around a couple thousand like-minded people.  It's a great way to stay in shape and kick off the summer."
Spectre is a Production Manager at Evergreen Home Performance, an energy efficiency audits and contracting company which installs improvements that make homes more comfortable and affordable. Evergreen made a corporate contribution in Spectre's name, as it does for every employee who participates in an athletic charitable fundraiser.