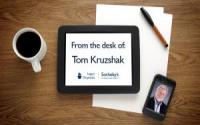 As a realtor with Sotheby's, Tom Kruzshak sees a lot of lovely houses.  He also thinks about how those houses will feel - and function - for their new owners.  After meeting Evergreen President Richard Burbank at a pre-sale audit, Tom decided to tackle energy efficiency in his own home. This is his Evergreen Story:
If you live in one of the many Maine towns that has adopted the Property Assessed Clean Energy (PACE) Ordinance it has never been easier or more affordable to improve the energy efficiency of your home. Administered by Efficiency Maine, the program provides affordable loans designed to cost less than the energy savings realized by the improvements. After attending an introductory program offered by our hometown of Falmouth my wife and I began asking ourselves, "How can we afford not to do this?" The primary program requirement is to have a Participating Energy Advisor conduct an energy audit of your home to determine if improvements will generate significant savings. We interviewed three companies by phone before choosing Evergreen Home Performance of Rockland to do the audit. I had attended an energy audit performed by the company's founder and president, Richard Burbank, a few years ago and recalled his knowledge and thoroughness. (Richard also happens to be a Paris Le Cordon Bleu trained chef, so I also hoped a memorable lunch might be included with the audit.) For several hours Richard and two of his fellow energy advisors crawled around our 1850's cape and examined nooks and crannies we didn't even know existed. A blower door test further indicated lots of opportunity for improving our home's energy efficiency. In fact, the resultant comprehensive report suggested a list of improvements that proved a bit daunting and certainly beyond our budget.
The solution was to perform some of the improvements ourselves (with Evergreen's guidance) while leaving the technically difficult tasks to the professionals. For nine days an Evergreen crew of four removed old, poorly installed insulation, webbed open cavities, and dense-packed walls and ceilings with cellulose insulation. The basement crew sprayed high-density polyurethane foam on the foundation walls followed by a coating of fire retardant paint. Before the crew's arrival my wife and I spent several weekends strategically air sealing around windows and doors as well as covering every inch of our hot water pipes with closed-cell foam insulation. As we insulated the pipes we noticed the basement temperature falling, indicating that the boiler's hot water was more efficiently finding its way to our faucets and radiators rather than heating the basement. The spray foam then increased the basement temperature by 10 degrees showing us how much heat we had been losing to air leaks and through the foundation walls. As the upper stories were dense packed with insulation we first noticed how much quieter the house became and then how much more even room temperatures seemed. The final blower door test showed a 32-34% reduction in air exchanges, not the 50% we had hoped for; but clearly an improvement and incentive to continue caulking wherever we discovered the slightest draft.
Final notes: We decided not to apply for a PACE loan. While we clearly would have qualified we decided alternative financing was even more attractive. The precise savings in energy costs will only become evident over time, but the improvement in our home's comfort level has been immediately noticeable. Sadly, however, we never lucked into that Le Cordon Bleu lunch!