Is all Insulation Equal?
Maybe you've considered rolling out more pink stuff in the attic. No one can blame you for thinking that would solve your insulation problems, but it may not help as much as you hope it will. You need an insulation material that retards the flow of air, and unfortunately, air, heat, and moisture flow fairly freely through fiberglass batts. When fiberglass gets wet, it stays wet, eventually rotting the framing next to it.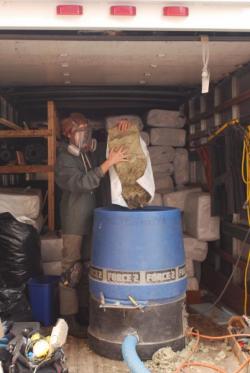 Blown-in insulation
Dense-packed cellulose is the best choice in attics and walls. National Fiber's environmentally friendly Cel-Pak insulation is made from clean, recycled newspaper that's spun back into a fibrous state and treated with boric acid to make it naturally fire-retardant and mold- and pest-repellent. (That alone gives cellulose a huge advantage over fiberglass, which our rodent friends love to nest in!) Long, flexible cellulose fibers ensure void-free air sealing around wiring, plumbing, and other obstacles.
We load Cel-Pak into a professional-grade blower calibrated to ensure optimium density. Careful installation ensures that your insulation never "settles," and infrared analysis ensures that every void is filled.
Dense-packed mineral wool is the best choice around chimneys, masonry walls, and other areas that will be exposed to intense heat or moisture. U.S. Fireproofing's mineral fiber insulation is an environmentally-friendly product made from spun slag wool to ensure a true thermal barrier and protect against fire, moisture, and pests. As with cellulose, long, flexible fibers add another level of air sealing.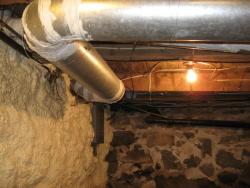 Spray Foam Insulation
Spray foam both air seals and insulates, and is used primarily on basement walls and around areas known for high air infiltration, such as around your eaves or rim joists.
We use dense, closed-cell foam, which provides a good air and moisture barrier and adds structural integrity to foundation walls. The two components of spray foam come together in an application nozzle and form an expanding foam, which is essentially inert once it has cured. Spray foam does off-gas during the curing process, so installers wear appropriate protective equipment (including respirators) to protect themselves. Based on EPA recommendations, Evergreen strongly advises that you, your family, and your pets makes plans to be out of the house overnight on the day of application. We ventilate the area to hasten the curing process and maximize your safety.
Once spray foam insulation has cured, we coat it with fire-proof intumescent paint. This step is time-consuming but essential and required by fire safety codes, as it creates the same 15-minute fire barrier provided by drywall.