Our Team
Evergreen Home Performance helps homeowners reduce their energy consumption and creates good jobs in a challenging economy. Our growing team of Energy Advisors supports the work of four production crews, and every job at Evergreen comes with family-friendly wages, professional training, paid time off, and retirement benefits.
Management Team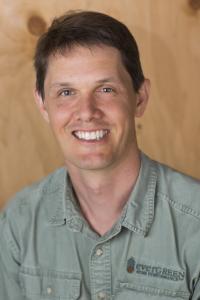 Richard Riegel Burbank, President & CEO
Richard founded Evergreen Home Performance in 2006 and serves as President, CEO, and Energy Advisor. Richard is the Chair of the Board of Efficiency First, a national home performance contractor trade group, and actively advocates for federal and state energy efficiency policy.
A Paris Le Cordon Bleu trained chef, Richard uses his prior career in fine cuisine and food service management to exceed customer expectations with exacting preparations and attention to customer service (insulating homes now, instead of people!). Richard is passionate about educating homeowners on energy efficiency and takes an active role in ongoing education and mentoring of the Evergreen staff. Richard enjoys spending time with his wife and Evergreen co-owner Sammy, and three children, Cecile, Levi, and Joshua. He fills in the balance of his time with organic gardening and playing accordion and concertina while singing sea shanties.
Richard's home: Richard's efforts to insulate and improve his 1880s Rockland home were the inspiration for Evergreen Home Performance. Eight years later, the business is thriving and Richard and his family have relocated to Falmouth, Maine to better serve the Portland area.
---
Elise Brown, Executive Vice President
Elise joined Evergreen in 2009 and became a partner in the business in January 2011, delighted to have finally found a business that shares her commitment to customer satisfaction, employee well-being, and environmental stewardship.
Elise is also the Emergency Management Director for Liberty, Maine and brings a broad background in public service, safety training, and management to Evergreen. She has been a professional firefighter, emergency medical technician, Fire Chief & Training Captain, and assistant director of a non-profit. At Evergreen, she focuses on managing the sales cycle, developing employee health & safety training programs, and fine-tuning production systems to optimize and standardize company practice. When not in the office making things hum, Elise can be found on her farm in Liberty, raising her children, Rose and Seth, as well as chickens, fruits, and vegetables alongside her partner, Martha Piscuskas.
Elise's home: Elise's 1830 brick farmhouse is heated by a woodstove, with a backup oil furnace. Evergreen's comprehensive energy upgrades made the house cozy and comfortable and transformed her typical wet Maine basement into clean, dry storage space for organic produce from her farm.
---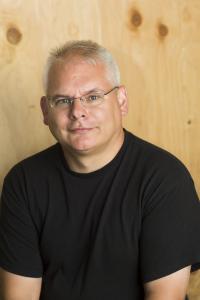 Brian Schortz, General Manager
Brian has been with Evergreen since 2008 and is passionate about working for an organization that makes a difference in the lives of its customers.
Brian brings 10+ years of corporate operational management, while working in food service with Sodexho. An active part of the Belfast, Maine community, Brian spends the majority of his time with his family, including his wife Lindsey, two children, Genevieve and Anna, as well as their two Labrador retrievers.
Brian's home: Brian has a classic Maine home: inefficient, cold, and damp, with tremendous untapped energy upgrades just waiting to be tackled. Strategic air sealing in his attic just whetted his appetite for a more comprehensive project in the future.
---
Kathleen Meil, Marketing & Customer Relations Manager
Kathleen joined Evergreen in 2011 to help bring customer service to a higher level. She works with homeowners, from their initial calls through their projects, and shapes Evergreen's face in the community.
Kathleen is a writer with a focus on children and families and a strong background in education, science, and community development. In addition to her work with Evergreen, Kathleen is working on a book about local food in New England and serves in Rockport's town government. She lives in Rockport, Maine with her husband, who is also a writer, their two young children, and two dogs.
Kathleen's home: Kathleen phased in Evergreen's efficiency improvements at her 1858 Rockport farmhouse, tackling the attached barn first and completing air sealing, insulation, and basement encapsulation in the original house a few years later, with the help of a PACE loan.
---
Energy Advisors
Cree Krull, Energy Advisor
Cree has been an Evergreen Energy Advisor since 2011 and is certified as a Building Analyst by the Building Performance Institute.
Cree has done everything from writing grants and managing a deli to serving as frozen foods buyer for a large organic health food store. He believes that it's our responsibility to husband our resources wisely and make the most of them, and he works toward that goal at work, at home, and in the community. Cree is a writer and an avid runner who lives in Bath, Maine with his two sons.
Cree's home: Cree takes his home's energy efficiency seriously and has tackled major improvements - including a DIY basement encapsulation. That was all this before he met Richard, joined Evergreen's building science class, and learned exactly how many mistakes he made along the way.
---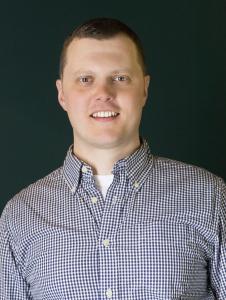 Justin McEdward, Energy Advisor
Justin originally joined Evergreen as a Field Technician. Eager to engineer the improvements he'd been installing, he pursued BPI-certification as a Building Envelope Specialist and now serves as an Energy Advisor.
Justin's interest in energy efficiency stems from his enthusiasm for the outdoors and his passion for sustainable living, and he's been following Evergreen's growth since its beginnings. He was a student in Richard Burbank's 2009 building science class, and jumped at the opportunity to join the team. Justin feels lucky to do work that saves homeowners money while significantly reducing their carbon footprint and bringing economic benefits to the whole region. Justin and his wife Jenny live in Portland, Maine with their son.
Justin's home: Justin and Jenny bought their first home last year, and have already done several air sealing projects. They're installing solar panels and an air source heat pump to offset their dependency on oil to heat the house, and insulating the foundation walls and attic space is next on the list.

---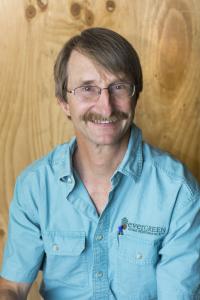 Brian Robinson, Energy Advisor
Brian joined Evergreen in 2009 and serves as Vice President as well as being a certified Building Analyst and Energy Auditor.
Brian spent twenty years in his first career helping urban youth recognize and develop their potential through direct experiences in nature. Brian's passion is for helping homeowners create dramatically more comfortable and energy efficient homes with smaller carbon footprints. Homeowners appreciate that he provides them the diagnosis and solutions to inform their decisions on the best ways to improve comfort and efficiency in their homes. Outside of work Brian serves on Camden's Energy and Parks & Recreation Committees. He can often be found volunteering on the Ragged Mountain Ski Patrol at the Camden Snow Bowl and enjoys spending time with his wife and two young children, preferably in the outdoors.
Brian's home: Brian has undertaken major energy improvements in his Camden, Maine home, reducing air leakage by half and reducing energy consumption by 60%. In addition to fully insulating his basement, dense packing roof slopes with cellulose, and adding cellulose between the first andsecond floors, his home now features programmable thermostats, ultra low flow showerheads, solar hot water, and a high efficiency washing machine.
---
Production Team
Evergreen's four production crews install energy efficiency upgrades throughout Maine.
Southern Maine Crews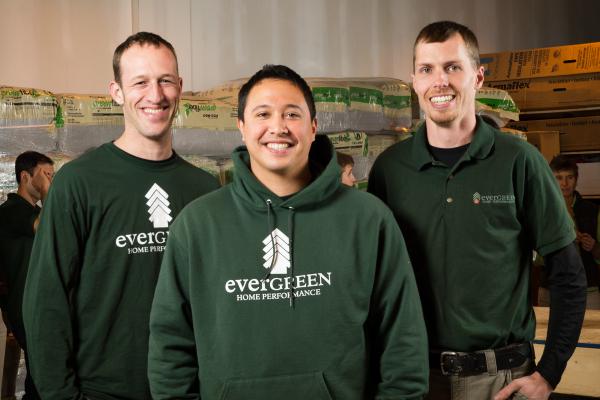 Jacob DeRaadt (left), Bryan Pringle (right), and Bruce Merryman (not pictured)
Bryan Pringle, Project Manager
Bryan joined the team in April 2013 to help expand Evergreen's service in Southern Maine. He currently serves as a Project Manager and is certified as a Building Analyst by the Building Performance Institute.
After driving tractor-trailers nationwide and supervising at Scholastic Book Fairs, Bryan decided to apply himself to an occupation that would make the world a greener place. He discovered that home performance is a perfect match for his skills and experience, and that Evergreen is Maine's leader in the field. Bryan loves improving the efficiency of existing housing stock, giving people increased satisfaction in their homes, and getting down and dirty with the parts of a house that sometimes haven't been touched since they were built. Bryan's wife Kelli is a minister at a Congregational Church in Westbrook, Maine.
Bryan's home: Bryan and Kelli live in downtown Saco in an 1848 cape built during the area's early textile industrial period. He's in the process of making a full building envelope improvement. The attic portion is done, basement encapsulation is in the works, and sidewall insulation is coming up next.

Bruce Merryman, Regional Project Manager
Bruce has worked with Evergreen since 2011 and currently serves as a Regional Project Manager. He is certified as a third-party inspector on Maine Uniform Building and Energy Codes.
Before joining Evergreen, Bruce worked in the construction trades on everything from seaside homes to commercial build-outs. Now focused on resolving comfort, moisture, and energy waste problems for homeowners, he feels a strong sense of pride for what he and the Evergreen team accomplish every day. Bruce enjoys being outdoors, hiking, mountain biking, cooking on a custom built wood fired cook stove, and playing the drums.
Bruce's home: Bruce lives in Harpswell, where he has dense-packed his walls, air sealed his attic and basement, and insulated his basement walls. He's installing heat recovery ventilation system, and attic insulation is next on the list.
Jacob DeRaadt, Field Technician
Jacob joined Evergreen in September 2015 and is proud to be part of a company that actively supports energy efficiency on the individual and legislative levels.
Jacob grew up around craftsmen and construction workers and has been comfortable on jobsites for as long as he can remember. Together with his passion for environmental and social justice issues, this makes Evergreen a natural fit. He is an artist with a focus on printmaking, collage, and painting, and volunteers his time at Mayo Street Arts and Space Gallery.
Jacob's home: Jacob lives in Portland, Maine.

---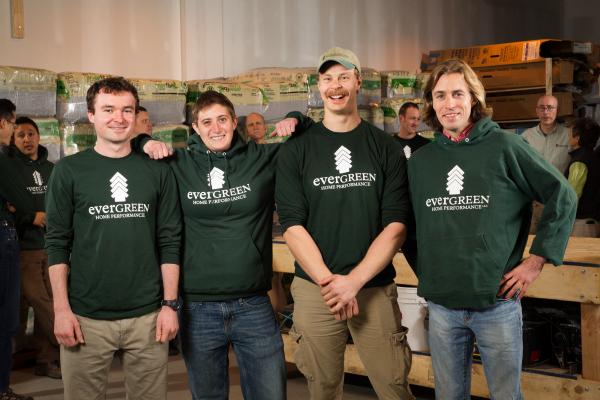 Nate Hathaway (left), David Holmes (center right), and Michael Bunker (right)
David Holmes, Project Manager
David joined the team in October 2014 to help expand Evergreen's service in Southern Maine, and was promoted to Project Manager the following Fall. He recently earned his Mechanical Engineering degree from the University of Southern Maine, where he also studied Applied Energy.
David grew up working on his family's farm in Northern Maine and learned early the value of using our resources wisely. He joined Evergreen to deliver energy efficiency upgrades that help people, help the environment, and help keep Maine beautiful. When he's not air sealing and insulating homes, David enjoys hiking, camping, music, and hot-rods.
David's home: David lives in Portland, Maine.

Michael Bunker, Regional Project Manager
Michael has been with Evergreen since 2010 and currently serves as a Regional Project Manager, with a specialization in cellulose installation.
Michael is an avid runner, and he spent four years at an athletic training center for track & field development before Richard Burbank encouraged him to explore the home performance industry. After shadowing an Evergreen crew, he promptly joined the company and enjoys reducing energy usage – and costs – for homeowners. Michael lives in Liberty, Maine on a small family farm and enjoys gardening, experimenting with timber frame construction, and staying physically active while living a rural lifestyle.
Michael's home: Michael encourages homeowners to consider investing in improvements that lighten the impact their houses have from a health, economic, and environmental perspective.

Nate Hathaway, Field Technician
Nate joined Evergreen in November 2015 and currently serves as a Field Technician.
Nate has always been very conscious of home energy and efficiency, but he developed a real passion for sustainability as an outdoor educator at The Chewonki Foundation and Maine Huts & Trails. He's proud to help make Maine's residential sector more sustainable and energy efficient through kinesthetic work that benefits homeowners and the environment. Given his love of the environment, it's not surprising that Nate can often be found hiking, canoeing, and skiing.
Nate's home: Nate isn't a homeowner yet, but he's saving up and making plans to build a passive house of his own some day.
---
Midcoast Crew - South

Jason Esposito (center) and Steve Athearn (right)
Jason Esposito, Project Manager
Jason joined Evergreen in January 2014 and currently serves as a Project Manager. He is certified by Building Performance Institute as a Building Envelope Specialist.
Before Evergreen, Jason worked as a professional photographer, an automotive interior re-designer, and as a union grip in the television and film industry. Buying an 1860s Maine home introduced him to the world of energy efficiency – and inefficiency – very quickly, and he reached out to Evergreen to learn more. He enjoys making immediate, concrete improvements for other homeowners, too. Jason and his wife Daniela welcomed their son last October.
Jason's home: Jason has made significant improvements in his Rockland home. He fully insulated and air sealed the attic, and transformed the two-car garage with insulation and the addition of an efficient mini-split heat pump. Basement encapsulation is next on the list.

Steve Athearn, Field Technician
Steve joined Evergreen in 2009, and is our veteran Field Technician. He is certified as a Building Envelope Specialist by the Building Performance Institute.
Steve performed juggling and comedy shows on cruise ships and in other venues for years. The future of global energy supplies became a major preoccupation of his during the last few years of this jet-set lifestyle, so he was primed to get involved in the home performance industry when he met Richard Burbank at Rockland's community gardens. Steve enjoys working in a field that contributes to energy savings, and spends his free time studying physics and geology.
Steve's home: Steve lives in Rockland, Maine, where he has done some air sealing in his attic.
---
Midcoast Crew - North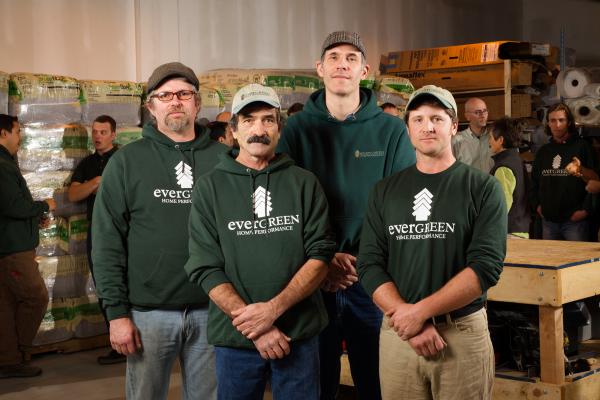 Rick Stevenson, Ed Elwell, Nate Spectre, and Joel Miller
Nate Spectre, Project Manager
Nate has been a Project Manager with Evergreen since 2010. He has a degree in philosophy from the University of Maine.
Nate is a carpenter by trade and ran his own carpentry business prior to coming to Evergreen. He believes that energy efficiency goes hand in hand with all phases of construction, from new building to renovations and retrofits, and enjoys adding building science expertise to his extensive building experience. Nate and his wife Kimberly enjoy all things outdoors, from hiking and camping to cycling and coaching little league baseball for their sons, Peter and Samuel.
Nate's home: Nate designed and built his Searsmont, Maine home. His new expertise in building efficiency – something he suspects most carpenters and builders are lacking – has convinced him to do things a little differently if and when he builds again. Specifically, he'd detail his chimney chase differently, increase foundation wall insulation, and pay more attention to air sealing.

Rick Stevenson, Field Technician
Rick joined Evergreen in October 2013 and is certified by the Building Performance Institute as a Building Envelope Professional.
Rick has a strong interest in reducing Maine's reliance on fossil fuels, and loves the challenge of solving problems for homeowners seeking to do the same. He has worked as a craftsman for a small manufacturing company. Rick lives in Hancock, Maine, where he can be found playing music, farming, and spending time with his wife and their three young sons.
Rick's home: Rick has air sealed his 1870s Hancock farmhouse and updated the heating system.

Ed Elwell, Field Technician
Eddie has been with Evergreen since 2010, and is one of our veteran Field Technicians.
Eddie has a long history of working on Maine homes, including fifteen years as a house painter. He enjoys the challenge of Evergreen's energy efficiency improvements, where every job is different and every project helps homeowners save money and be more comfortable. Eddie is known for his incredibly positive attitude, his amazing work ethic, and his willingness to go into all the small places in Maine homes with a smile. When he's not crawling through attics and basements, Eddie can be found fishing and camping with his family.
Eddie's home: Eddie lives in Winterport, Maine with his wife Sally and his faithful sidekick, a dog named Chance.

Joel Miller, Field Technician
Joel joined Evergreen in November 2015 and currently serves as a Field Technician.
Joel became interested in energy efficiency through his passion for environmental stewardship and dedication to working for a less fossil-fuel-dependent culture. He is proud to help reduce energy waste and expenses for Mainers. Joel is also an organic farmer who loves working with his draft horses in the fields and forests of the small family farm he runs with his wife Annalisa and their young daughter. The family will welcome a second child in February.
Joel's home: Joel lives in Palermo, where he's looking forward to embarking on energy efficiency projects.