Our Team
Evergreen Home Performance helps homeowners reduce their energy consumption and creates good jobs in a bad economy. Our growing team of Energy Advisors supports the work of three crews, and every job at Evergreen comes with family-friendly wages, professional training, and health insurance.
Richard Riegel Burbank founded Evergreen Home Performance in 2006 and serves as President and CEO. He was one of the first Building Analysts certified by the Building Performance Institute in Maine, and has trained and proctored exams for new professionals throughout New England since 2008. Richard serves on the board of Efficiency First, a national home performance contractor trade group, and actively advocates for federal and state energy efficiency policy.
A Paris Le Cordon Bleu trained chef, Richard uses his prior career in fine cuisine and food service management to exceed customer expectations with exacting preparations and attention to customer service (insulating homes now, instead of people!). Richard is passionate about educating homeowners on energy efficiency and takes an active role in ongoing education and mentoring of the Evergreen staff. He is energized by his team's innovation, as they constantly seek to maximize both home energy efficiency and a positive homeowner experience. Richard enjoys spending time with his wife and Evergreen co-owner Sammy, and three children, Cecile, Levi, and Joshua. He fills in the balance of his time with organic gardening and playing accordion and concertina while singing sea shanties.
Richard's home: Richard's 1880s Rockland home was the inspiration for Evergreen Home Performance. He knew the basement was wet, but when he discovered that the house was completely uninsulated and that carbon monoxide was leaking from the heating system, it was clear something had to be done. Richard signed up for a class, invested in some equipment, and Evergreen Home Performance was born. Eight years later, the business is thriving and keeping Richard busy enough that his own house still needs work.
Elise Brown joined the Evergreen Staff as Development Manager in 2009. She became a partner in the business in January 2011, delighted to have finally found a business that shared her commitment to customer satisfaction, employee well being, and environmental stewardship.
Elise is also the Emergency Management Director for Liberty, Maine and brings a broad background in public service, safety training, and management to Evergreen. She has been a professional firefighter, emergency medical technician, Fire Chief & Training Captain, and assistant director of an Augusta-based non-profit. Her current projects focus on developing human resource, employee health & safety training programs, and production systems to optimize and standardize company practice as Evergreen rapidly grows. When not in the office working to make things hum, Elise can be found on her farm in Liberty, raising her children, Rose and Seth, as well as goats, chickens, fruits, and vegetables alongside her partner, Martha Piscuskas. Elise also enjoys outdoor pursuits and volunteering at the local school.
Elise's home: Elise's 1830 brick farmhouse is heated by a woodstove, with a backup oil furnace. Evergreen installed comprehensive energy upgrades this year, transforming the typical wet Maine basement into clean, dry storage space for organic produce from her farm. Air sealing and insulation made the house cozy and comfortable, with a substantial reduction in air leakage.
Jessie Davis is one of Evergreen's Energy Advisors and has been with the company since January 2008. The Building Performance Institute certifies Jessie as a Building Performance Analyst, and her building science knowledge is complimented by a Bachelors Degree in Human Ecology from the leading environmental university, College of Atlantic, in Bar Harbor.
Jessie combines a passion for introducing homeowners to both the bottom-line and environmental benefits of energy efficiency with advocacy of indoor air quality as the key to a homeowner's comfort, health, and safety. She continually seeks to update her professional knowledge and training and is currently studying efficient heating systems. When she doesn't have her nose in a modern hydronic heating textbook, Jessie enjoys nothing more than summer weather at the beach, cheering for the Boston Celtics, running with her Australian cattle dog Mira, and exploring the mid coast with her daughter Scout and husband Dan.
Jessie's home: Jessie is a believer in improving the global picture one house at a time, and in 2009 she undertook a deep energy retrofit of her own home for a 60% reduction in annual energy usage.
Eric Evans has been an Energy Advisor at Evergreen since 2010 and also serves as a Technical Advisor. The Building Performance Institute certified Eric as Building Analyst Professional in 2008, and he uses his experience and analytical skills to help homeowners choose home improvements to meet their highest goals of comfort and energy-efficiency.
Eric has focused on energy efficiency since the "first energy crisis" of 1978-82, when he evaluated the construction and insulation of hundreds of homes as manager of an insulation company. He then spent 14 years building energy-efficient homes, beginning with a Maine Housing Authority Solar Energy Efficient House Design Winner and culminating with his current home. Eric took an 18-year hiatus from green building for a mid-life career in compost testing and research. Between Evergreen jobs, Eric is science coordinator for the Maine Chapter of The American Chestnut Foundation, sponsors a 10-member communal garden group with his wife Laura at their homestead in Camden, and enjoys hiking, swimming, singing, and woodworking.
Eric's home: Eric built his current home in Camden, which is very comfortable with mostly wood heat, night window covers, and solar-powered hot water and electricity.
Chris Farthing is a Project Manager with Evergreen Home Performance and is studying for his Building Performance Institute certification as a Building Envelope Specialist.
His extensive experience in the building trade includes a carpenter apprenticeship and a career at Lyman Morse Boat Builders. Chris laughs that he's gone from chasing down water leaks in high-end yachts to chasing air leaks in people's homes. Chris enjoys using his problem solving skills to both improve homeowners' comfort, and to contribute to a better environment. Originally from Essex, England, Chris first traveled the world as a waiter on a cruise ship, and is happy to have landed in the Midcoast area. To relax, Chris enjoys the outdoors and follows West Ham, his favorite English soccer team.
Chris's home: Chris is steadily sealing up his house. He's air sealed his heating ducts and blown 26" of fiberglass insulation into his attic, and is now planning to scoot that insulation out of the way so he can air seal the attic.
Cree Hale Krull joined Evergreen Home Performance as an Energy Advisor in April 2011 and is certified as a Building Analyst by the Building Performance Institute.
Cree has done everything from writing grants and managing a deli to serving as frozen foods buyer for a large organic health food store. At work, at home, and in the community, wastefulness has always gotten under his skin. Cree describes the inefficient use of precious natural resources as karmically foolish and politically shameful, and believes that it's our responsibility to husband our resources wisely and make the most of them. Cree is a writer and an avid runner who lives in Bath with his wife, Sarah, and their two sons, Sebastian and Robin.
Cree's home: Cree takes his home's energy efficiency seriously. He met with nine different HVAC contractors to get bids on a new boiler – and chose the one who told him that failing to get his old single-walled oil tank out of the crawlspace was a "whole lot of stupid" if anything ever leaked. Cree masterminded a full crawlspace encapsulation, which Richard Burbank described as the finest homeowner encapsulation he's ever seen; researched, bought, and installed commercial-grade pipe insulation; installed an oven fan; and put in his own attic cap. That was all this before he met Richard, joined Evergreen's building science class, and learned exactly how many mistakes he made along the way.
Kathleen Meil is Evergreen's Marketing & Customer Relations Manager. She shapes Evergreen's face in the community and develops personal relationships with homeowners, from their initial calls through their projects.
Kathleen is a writer with a focus on children and families and a strong background in education, science, and community development. In addition to her work with Evergreen, Kathleen blogs about art and design, home and family, and reading and writing at www.AvidWord.com. She lives in Rockport with her husband, who is also a writer, their two young children, and two dogs.
Kathleen's home: When Kathleen traded her big, early-1800s house in Portland for a newer, smaller farmhouse built in Rockport in 1858, she was shocked to find her fuel bills higher than ever. An Evergreen audit revealed that the house is poorly insulated and leaky as a sieve – even in recently renovated areas. Relieved that someone understands the big picture of her home, Kathleen added insulation and air sealing in her attic and attached barn, and encapsulated the basement.
Bruce Merryman has worked with Evergreen since June 2011 and currently serves as a Project Manager. He is certified by the Building Performance Institute as a Building Analyst, and as a third-party inspector on Maine Uniform Building and Energy Codes.
Bruce takes pride in his work and is committed to learning and understanding how buildings work. He lives in Harpswell, Maine.

Ham Niles joined Evergreen in September 2011 to assist Evergreen's expansion into the Belfast area. He is certified as a Building Analyst by the Building Performance Institute.
Before Evergreen, Ham worked on the design team at GO Logic Homes, collaborating on the design of Maine's first Passive House as well as other highly-efficient homes and buildings built by that firm. Before that he was a senior designer at Moss Inc., another Maine company known for its excellent customer service and for creating award-winning tensile structures from aluminum tubing and textiles.
Ham and his wife Jean have been Belfast residents since 1991. They love spending time on the water, hiking, walking with their dogs - and Ham can be spotted riding his motorcycle around the Maine countryside with his own nose in the wind. Their son Jeremy is in college at the University of Maine studying design and business.
Ham's home: With a little good advice from Evergreen a few years back, Ham and his wife Jean cut their own heating bills down by over 50% just by air-sealing the home they bought in '07. After a new roof last summer they are just about 'solar-ready," and with an energy loan from Efficiency Maine this year they plan on getting the final bits of the house done right by the stellar crew at Evergreen.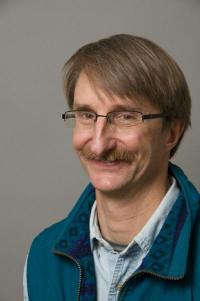 Brian Robinson has been an Energy Advisor and Evergreen's Vice President of Sales since 2009. Brian is a State of Maine Residential Energy Auditor, and the Building Performance Institute certifies him as a Building Analyst.
Brian spent twenty years in his first career, helping urban youth recognize and develop their potential through direct experiences in nature. Brian's passion is for helping homeowners create dramatically more comfortable and energy efficient homes with smaller carbon footprints. Homeowners appreciate that he provides them the diagnosis and solutions to inform their decisions on the best ways to improve comfort and efficiency in their homes. Outside of work Brian serves on Camden's Energy and Parks & Recreation Committees. He can often found volunteering on the Ragged Mountain Ski Patrol at the Camden Snow Bowl and enjoys spending time with his wife and two young children, preferably in the outdoors.
Brian's home: Brian has undertaken major energy improvements in his Camden home, reducing air leakage by half and reducing energy consumption by 60%. In addition to fully insulating his basement, dense packing roof slopes with cellulose, and adding cellulose between the first and second floors, his home now features programmable thermostats, ultra low flow showerheads, solar hot water, and a high efficiency washing machine.
Steve Seekins joined Evergreen as an Energy Advisor in January 2009 and now serves as a Technical Advisor. The Building Performance Institute certifies Steve as a Building Analyst and an Envelope Specialist.
Steve spent 26 years in the Navy and a career as Defense Contractor. He first became interested in energy conservation and renewable energy during the 1970s oil crisis, and found his engineering experience and his interest in conservation and renewable energy a perfect match. An active member of the community, he enjoys showing and volunteering with his dogs at hospitals and nursing homes as a Therapy Dogs International member. He also is a certified therapy dog evaluator and conducts seminars and evaluations monthly in the Rockland area. He enjoys kayaking, cross-country skiing, cycling, and spending time with his 8 children and 19 grandchildren.
Steve's home: Steve's two Clark Island homes – an 1850s farmhouse and a brand new house – have given him experience improving the energy efficiency of old and new homes. The farmhouse features solar panels, a 10kW wind turbine that feeds excess power back into the grid, and a new foundation and urethane foam insulation in the attached barn. The new home was constructed with Insulated Concrete Forms, which are large Lego-like styrofoam blocks, stacked and filled with concrete. With 5" of styrofoam and 6" of concrete from the basement up through the eaves, the outside walls have an equivalent R-value of 40. A solar system and a Rinnai heater will provide most of the home's heat and all of its hot water, and a Heat Recovery Ventilator system will ensure plenty of fresh air while recovering any heat before the old air is exhausted.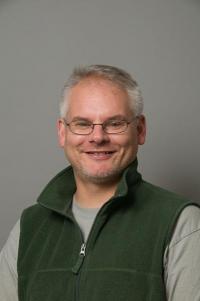 Brian Schortz came to work at Evergreen Home Performance in 2008 and currently serves as General Manager. Brian is passionate about working for an organization that makes a difference in the lives of its customers.
Brian brings to the organization 10+ years of corporate operational management, while working in food service with Sodexho. An active part of the Belfast community, Brian spends the majority of his time with his family, including his wife Lindsey, two children, Genevieve and Anna, as well as their two Labrador retrievers.
Brian's home: Brian has a classic Maine home: inefficient, cold, and damp, with tremendous untapped energy upgrades just waiting to be tackled. Strategic air sealing in his attic just whetted his appetite for a more comprehensive project in the future.
Nate Spectre has been a Project Manager with Evergreen Home Performance since September 2010. He has a degree in philosophy from the University of Maine and is certified by the Building Performance Institute as a Building Envelope Specialist.
Nate is a carpenter by trade and ran his own carpentry business prior to coming to Evergreen. He believes that energy efficiency goes hand in hand with all phases of construction, from new building to renovations and retrofits, and enjoys adding building science expertise to his extensive building experience. Nate and his wife Kimberly enjoy all things outdoors, from hiking and camping to cycling and coaching little league baseball for their sons, Peter and Samuel.
Nate's home: Nate designed and built his Searsport home. His new expertise in building efficiency – something he suspects most carpenters and builders are lacking – has convinced him to do things a little differently if and when he builds again. Specifically, he'd detail his chimney chase differently, increase foundation wall insulation, and pay more attention to air sealing.