What is basement encapsulation?
If your basement looks like this, you're not alone. Whether it's a dirt floor, gravel, ledge, or a poured concrete slab, almost every basement in Midcoast and central Maine shares one thing: the foundations of our buildings are set upon hard packed marine clay. This substrate has an incredible ability to absorb and hold moisture, and whether you experience standing water or not, a fair amount of moisture evaporates and diffuses into your home. High levels of moisture in the house can lead to problems with corrosion, decay and rot, mold and mildew, and poor indoor air quality.
Encapsulation totally transforms damp, leaky basements.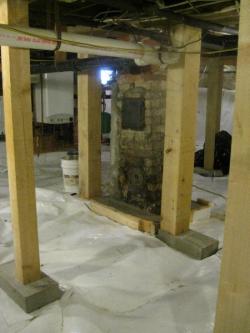 First we install whatever drainage improvements are necessary, including trenches and sump pits. We lay down Enkadrain, a lightweight, flexible mat with a core of looped, synthetic fibers to channel water effectively and top it with a reinforced 12mil polyethylene vapor barrier. We take the time to slide this vapor barrier under your appliances and up the walls, where it's secured with spray foam insulation, so the encapsulation is complete. We'll even pour a concrete slab to ensure the most durable, permanent solution to your basment moisture problems.