Building Science Questions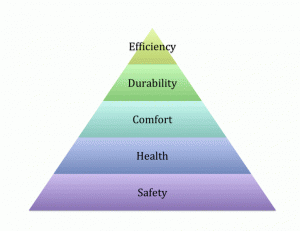 Can a house be too tight?
What about my windows?
Does efficiency affect health?
What is infrared diagnostic testing?
What's a blower door?
What's air sealing?
What about my basement?
Does efficiency matter year-round?
Is all insulation equal?
Are ice dams a roofing problem?
What's the big deal about carbon monoxide?

The laws of physics may be fixed, but the way they play out in your home depends on many variables. Our house-as-a-system approach hinges on the concept that those variables - from the building envelope and your heating system to the way you use your space - all interact. Home Performance helps us understand those interactions and ensure that your house is safe, healthy, comfortable, durable - and energy efficient.
We're proud to be building science geeks, and we love answering your questions, so ask away.
---
You've probably heard that your house needs to breathe. That's true, but that doesn't mean it needs to leak. Learn about natural ventilation, air sealing, and energy efficiency.
Leaky windows can cause serious comfort problems, but that doesn't mean they need to be replaced. Affordable, custom-built window inserts may be the answer.
The EPA calls indoor air quality one of the Top Five Environmental Threats to public health, but suggests that, "Integrated healthy home and energy efficiency upgrade activities can simultaneously lower utility costs and improve indoor air quality."

Infrared thermography lets us visualize temperature differences, making it one of the most essential (and interesting) parts of a basic home energy audit. Learn how infrared cameras work and what they tell us.

Blower door testing lets us locate hidden air leaks that compromise efficiency and waste energy. Learn how blower door testing works and what measurements like cfm50 and ach50 tell us.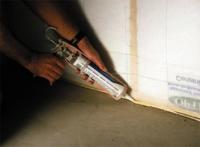 What's air sealing?
Most homeowners are surprised to learn all
their cracks and crannies add up to the equivalent of one or two open windows. Seal up those leaks and stop heating and cooling your backyard.
Basement moisture evaporates into your home, leading to rot, mold, and mildew, and compromising indoor air quality. Basement encapsulation keeps that moisture outside of your building envelope.
Does efficiency matter year-round?
Most people think winter when they hear energy efficiency, but adequate insulation can keep your house cooler in the summer, too. Learn how attic insulation and air sealing can keep you comfortable all year round.
Fiberglass, cellulose, mineral wool, spray foam, foam board - all insulation is not the same. Learn how we use the right product for each spot in your house.
Ice dams may show up on your roof, but they're not a roofing problem. They're a sign of heat escaping through your attic.
Carbon monoxide is a dangerous by-product of combustion. Just because you can't see it or smell it doesn't mean that chronic exposure isn't making you sick.
---
Want to learn more?
Check out some of our favorite Building Science resources.
These tools can help you assess your current energy use and make a plan to manage it.