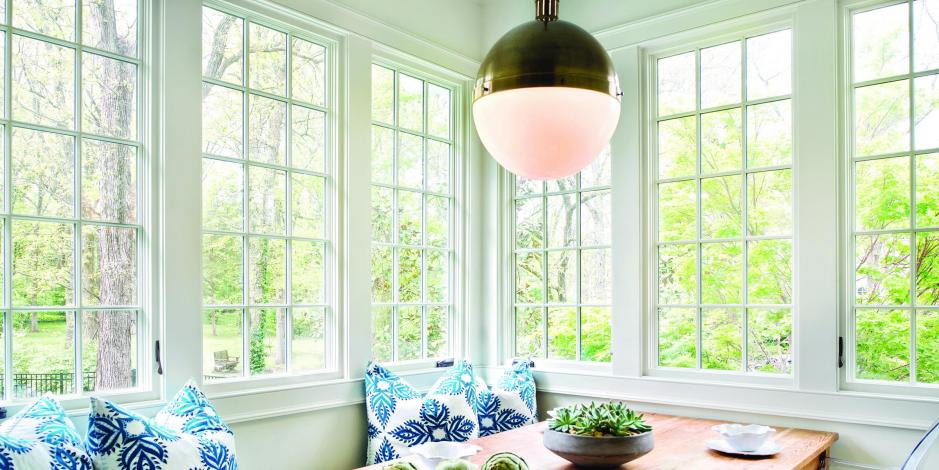 With the birds chirping, sunlight streaming in through your windows, and temperatures warming up, who could blame you for feeling inspired to tackle a home improvement project or two this spring? You might even find yourself thinking, "I think it's finally time to replace my old, single pane windows."
Home window replacement is an important investment — one that can improve both home energy efficiency and beautify your home inside and out. If you're looking to replace your windows and want to enjoy the benefits of your new windows this summer, now is the time to start your project!
Why Install New, Energy Efficient Windows in the Spring?
Spring is an excellent time to consider window replacement. When you install new, high quality windows from a manufacturer like Marvin, you can:
Maximize natural sunlight

Reduce heat gain in summer

Reduce heat loss in winter

Conserve more energy

Improve indoor comfort

Enhance the look of your home

Increase home durability
And with the sunniest months of the year ahead of us, replacing old windows now allows you to experience the full benefits of your windows right away.
Discover Beautiful, High Quality Windows from Marvin
Have you been thinking about window options but don't know where to start? A great way to start your window replacement project this spring is to explore the beautiful and energy efficient windows offered by Marvin.
Marvin windows offer outstanding efficiency and durability especially for homes in Maine (and that's why we install them!) Features like double or triple paned insulating glass, gas fill between panes, and low E coating work together to control heat flow into and out of the home — helping you potentially cut energy costs and lower that annual heating bill. Meanwhile, strong materials like Ultrex® Fiberglass lend durability and increase the lifespan, making these windows a great option for Coastal Maine homes.
Plus, Marvin replacement windows come in an extensive array of beautiful styles and finishes, letting you choose a design that complements your home's unique aesthetic. Whether you want historic looking wood windows that are easy to maintain, or a more modern looking window featuring durable Ultrex® Fiberglass, there is an option to suit your taste.
Start Your Window Project with Evergreen Windows & Doors
If you're ready to get started on your window replacement project, get in touch with Evergreen Windows & Doors. We're not a national franchise just out to sell you windows; we're a local window company that is committed to providing high quality installation — with a focus on your home's structural integrity, the windows' operational and energy performance, and the beautiful look your new windows will bring to your home.
With every window installation, we bring the same thoughtful planning and attention to detail that we bring to our home performance projects. In fact, due to our commitment to providing excellent service and professional installation, we were the first window company in New England to become a Marvin Authorized Replacement Contractor!
Learn more about what new Marvin windows can do for your Maine home. Call (207) 594-2244 or contact us today to schedule a window consultation!
Considering new windows for your home in Maine?
Schedule a consultation with your local window expert.