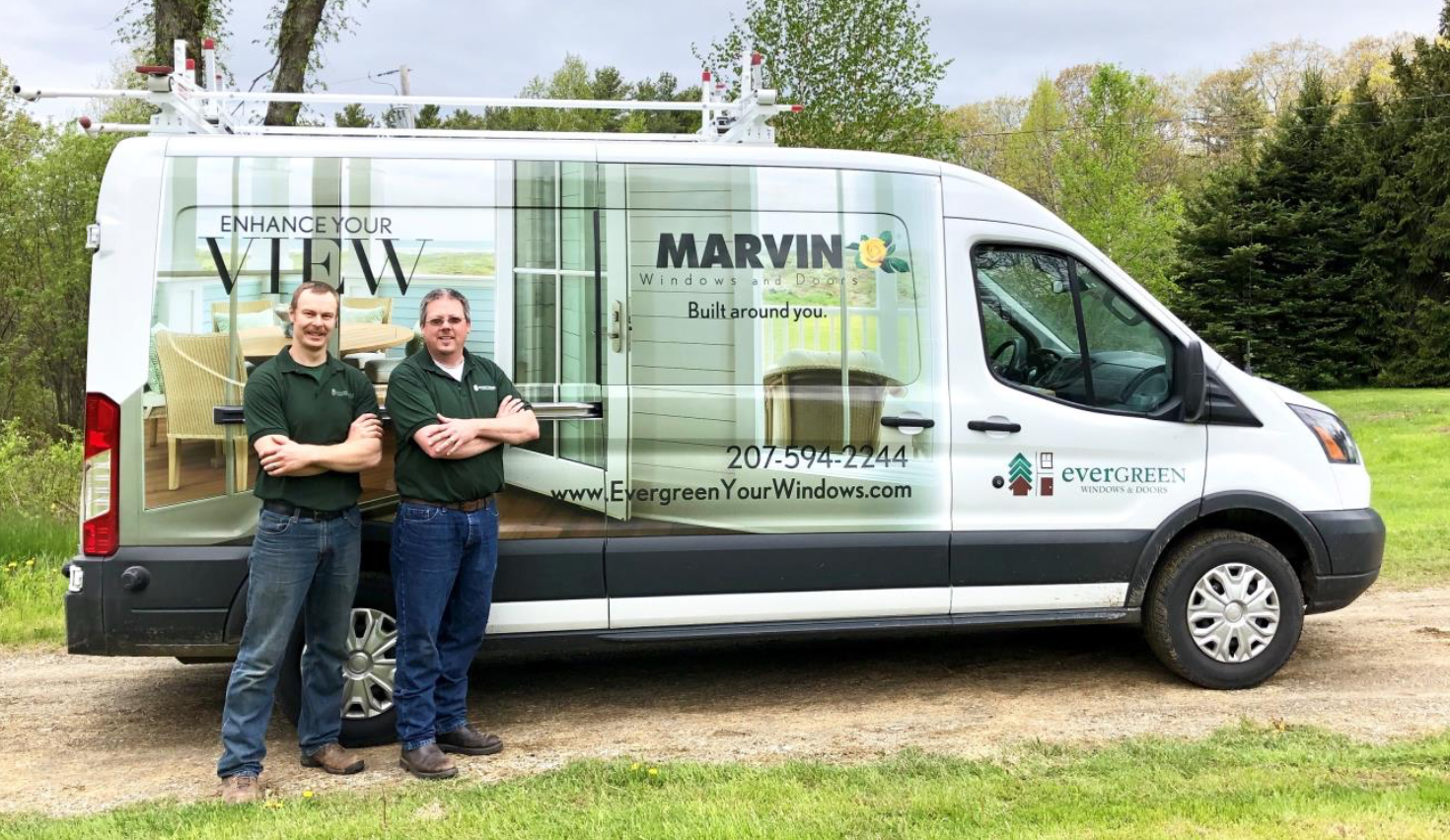 FOR IMMEDIATE RELEASE Press Release
Evergreen Home Performance selected as Marvin AUTHORIZED REPLACEMENT CONTRACTOR
May 31, 2019
Evergreen Home Performance, LLC, a Portland and Rockland-based contractor specializing in residential energy efficiency retrofits, announced that it has been approved by Marvin to become an Authorized Replacement Contractor for window and door replacement services.
Details of the partnership were announced by Evergreen's Executive Vice President, Elise Brown. "Evergreen is thrilled to be a part of Marvin's effort to make it even easier for homeowners to find professional window & door installation services. We are honored to be invited into Marvin's trusted installer program -- and being the first approved contractor in New England is especially exciting."
With the AUTHORIZED REPLACEMENT CONTRACTOR program, homeowners use an online vendor locator tool to identify local certified contractors. To qualify for inclusion in the program Evergreen staff participated in factory tours and specialized Marvin product, sales, pricing, and installation training. Authorized Replacement Contractors commit to Marvin installation specifications, superior customer service, and a 2-year labor warranty.
Evergreen Home Performance has been providing comprehensive energy efficiency remodeling services in Maine since 2006 and is a registered vendor in Efficiency Maine's Home Energy Savings Program. To date, Evergreen's residential efficiency work has reduced Maine's fossil fuel consumption by an estimated 2.25 million gallons and qualified Maine homeowners for more than $500,000 in Efficiency Maine rebates.
Home Performance contracting uses diagnostic tools like thermography, blower door testing, and energy modeling, to design and install retrofits to optimize occupant health, safety, and comfort, while also minimizing energy costs.
Evergreen's sales approach is based upon relationship-building. "Because homes are each unique and customer priorities vary, each retrofit recommendation is custom-built on what the science tells us, what the customer's priorities are, and what the budget allows for." Every home has at least three site visits to ensure customer satisfaction.
"We added window and door replacement to our suite of services in 2017 after dozens of requests from customers seeking quality energy-efficient windows, installed to brand standards. High performing Marvin windows that look and work great were a natural extension of our core business. People investing in a Marvin window upgrade are looking for great customer service and that's something we've worked hard to get good at."
Since then, Evergreen has installed hundreds of windows and dozens of doors and now has two dedicated product specialists and two installation teams serving both the Portland and Rockland area locations.
Marvin's regional distributor, A.W Hastings, has steered Evergreen's on-boarding to the AUTHORIZED REPLACEMENT CONTRACTOR program. Matt LeGeyt, Hasting's Retail Business Development Manager, says, "It is exciting to have Evergreen Home Performance on board as an Authorized Replacement Contractor. Their company values and commitment to high quality and customer satisfaction are directly in line with Marvin."

Considering new windows for your Maine home? Schedule a consultation with your local window expert and New England's first Marvin Authorized Replacement Contractor. Contact us here or call (207) 594-2244 to get started!
Ready to get started on your window project?
Schedule a free consultation with your local Marvin Authorized Contractor