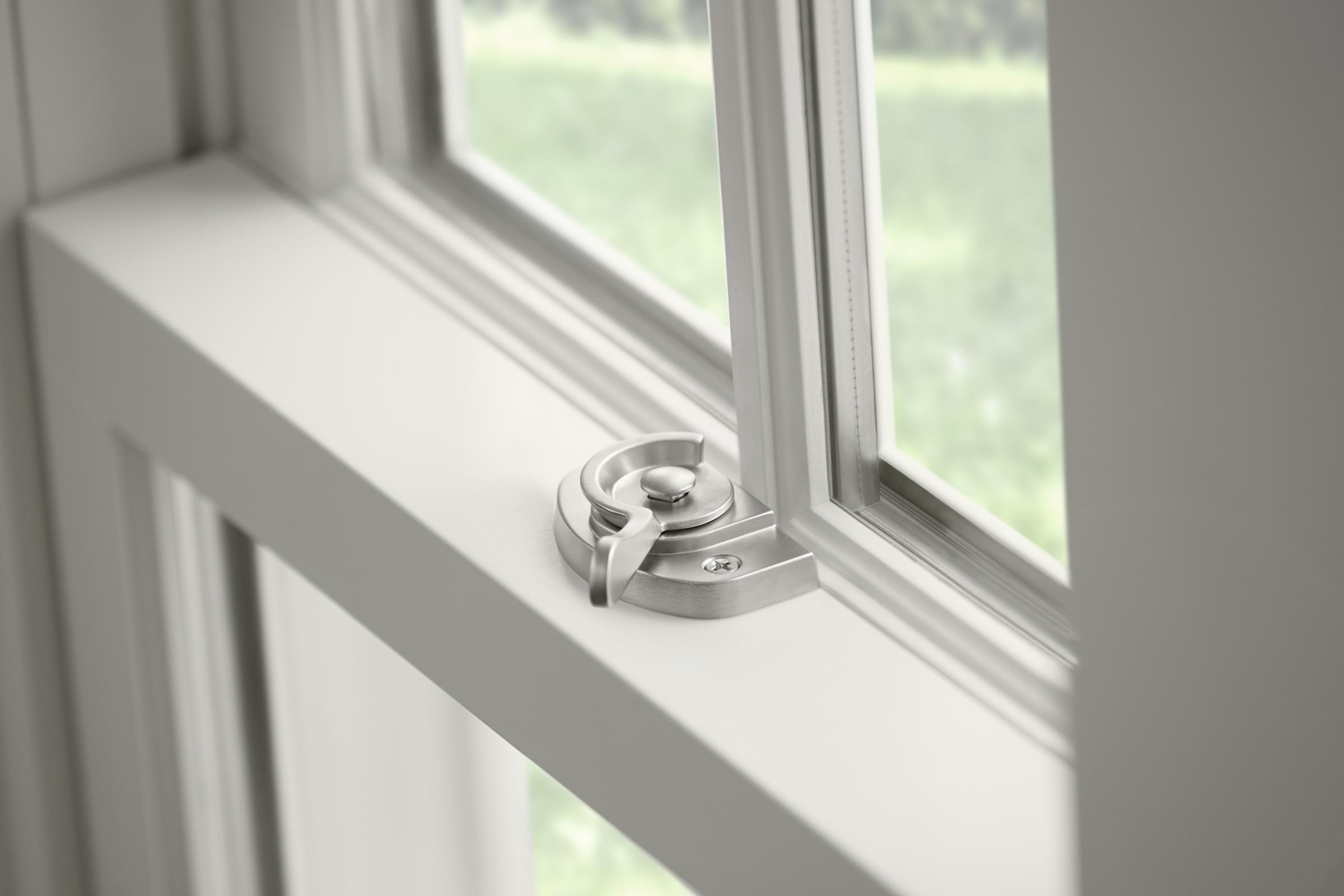 Evergreen's Elise Brown, Bryan Pringle, and Brian Schortz found out during 3 full days of factory tours and training at the Cardinal Floating Glass facility in Portage, Wisconsin and the Marvin Window factory in Warroad, Minnesota.
When a window order is submitted to Marvin, they first contact their glass manufacturer for custom-cut window panes. Window panes are made from "floating" glass. Glass ingredients are melted together at high temperature (3,000 degrees F!) and then floated atop a pool of melted tin to produce a consistent sheet of thin material.
This ribbon of transparent taffy-like material is pulled through the furnace into a cooling tunnel by turning gears. The rate at which the gears turn determines the thickness of the glass.
Once the glass is cooled, it is cut to size and low-e coatings (an energy-saving measure) are applied to customer specs. This glass is sent to Cardinal's insulating glass facility in order to be sandwiched and sealed into two or three pane units. The insulated units are then shipped to the Marvin factory.
Marvin's window factory is located at the very northern tip of Minnesota, six miles from the Canadian border. The town of 1600 is home to a factory that employs 2200! To say that Warroad is a company town is an understatement. Marvin has built two hockey rinks, operates a home supply center open to the public, sponsors numerous community events, and boasts numerous accolades as an employee-centered company.
During the Marvin tour, Evergreen was impressed with the level of customization, attention to detail, and high quality components. Energy Advisor & Windows Specialist Bryan Pringle was glad to see how much attention is paid to the window glazing process.
"I was really pleased to see how carefully they seat the insulated glass pane into each window frame. Their systems ensure complete sealing to provide lasting energy efficiency."
Executive Vice President Elise Brown reports:
"I was especially impressed to see that Marvin treats wood components with preservative after they have been fully cut and sanded, not before like so many of their competitors do. This helps to maximize the window's longevity."
General Manager Brian Schortz noted how the company culture brings quality to their product.
"I sensed such pride on the part of the employees.  Marvin retains a high level of human contact in their process to complement the efficiency of automation. Every window is visually inspected multiple times throughout their manufacture. The employees speak highly of their product, their jobs, and the company."
Evergreen found interesting parallels between the two companies, in spite of the notable size difference. Marvin finds great value in relationships, just like Evergreen. Rather than promotion gimmicks, Marvin cultivates customers through getting to know, and serving, people. During the tour, Marvin, its distributor A.W. Hastings, & Portland's Marvin Design Gallery graciously hosted us with lodging & meals, museum tours, and a little fun -- racing go karts!
Considering Marvin windows for your home in MidCoast Maine? Schedule a consultation with Evergreen Windows & Doors, New England's first Authorized Replacement Contractor for Marvin windows and doors! Contact us or call (207) 594-2244 today.
Considering installing new windows in MidCoast ME?
Learn more about Marvin windows for your home.